Snookie ain't got nuttin on me!
Feb 6, 2012
4,928
181
Bulldog(s) Names

Brutus (EBD 6/4/11), Chanel (Pitbull 12/23/06)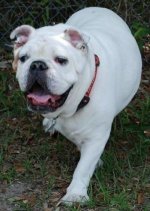 Baby is around 8 years old and is a super sweet, mellow girl. She had a very infected tail pocket which resulted in tail amputation surgery. She also had a very infected and swollen ear canal that required ear ablasion surgery. Baby made a full recovery and is ready for a forever home. She is a gets along with everyone and enjoys a daily stroll around the neighborhood.
HOW TO ADOPT:
Here is the site for Buddies thru Bullies.
Thank you so much for taking the time and considering one of these orphan Bulldogs.
If you are interested in adopting, go to
http://www.buddiesthrubullies.org/
and fill out an application.
To view more Bulldogs for adoption through Buddies thru Bullies, click the link below:
http://www.englishbulldognews.com/forums/forumdisplay.php?90-FLORIDA-Buddies-Thru-Bullies
Please tell them that you found them on English Bulldog News!
Last edited: