New member

Sep 3, 2012
116
1
Country

USA
Bulldog(s) Names

Oswald Cobblepot
Hey all!
So recently I noticed Mister O doing the boot scoot, and checked his little stubtail to see what was going on down there. At first I hadn't thought he had much of a tail pocket, but after closer inspection there is a small pocket UNDER the tail. Obviously since I didnt know it was there it hadn't been cleaned and he was all itchy!! So I cleaned it out and put him in the bath to soothe the area, and he seems fine now.
My question is, it's rather a tight space in there. What's the best way to clean the area so we don't run into problems down the road? Granted, hes only 15 weeks, so as he grows this may all change and this post will be totally moot, but in the meantime... I've been using the Malacetic wipes to get in there and dig around (with the added bonus of his butt smelling like apricots rather than, well, butt...). Will that be sufficient? He also has a bath once or twice a week where I clean it.
Will malacetic and diligence be enough, or is there some trick you guys can share?
The bully butt in question: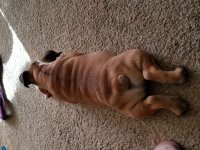 Last edited: