Thread Starter

Thread starter
Thank you all for the kind words! Linus and Bernice were having quite the time running around! Bernice looked super shiny. I believe it's from switching her to blue buffalo lamb and oatmeal(rice). She was on purina one lamb and rice but never had that sheen. Linus also does really well on it. No tear stains!
I am not sure how much he weighs now. At 17 weeks he was 21.3 lbs. I'm sure he's close to 30lbs by now. He is still at a lanky stage......I don't know how breeders get those fat roley poley puppies! I can't feed him more than 2 2/3 cups a day or he gets diarrhea and poops in his house. He eats the same amount my lab eats and she maintains her 60lbs......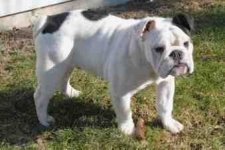 This is one of my favorites from yesterday.... Along with this one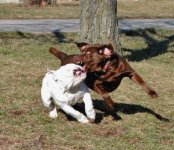 But I really like his tongue when he is sleeping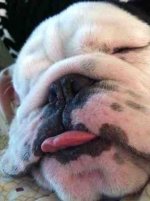 I am so excited as his lower canines are coming in and of course they stick out!! I love that!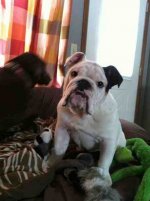 Ok I'm done for now! ;-)