Snookie ain't got nuttin on me!
Feb 6, 2012
4,928
181
Bulldog(s) Names

Brutus (EBD 6/4/11), Chanel (Pitbull 12/23/06)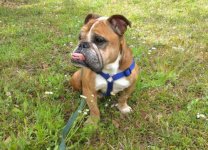 Scoop is a mini bulldog boy and approx 6 years old. He is always up beat and happy to see you. He is great with other dogs. Scoop was treated for heart worm and had cherry eye surgery on his right eye. This tiny guy may be small in size, but he has a BIG personality!
Pet ID: Scoop • Spayed/Neutered • Up-to-date with routine shots • House trained
Here is the site for Buddies thru Bullies.
Thank you so much for taking the time and considering one of these orphan Bulldogs.
If you are interested in adopting, go to
http://www.buddiesthrubullies.org/
and fill out an application.
To view more Bulldogs for adoption through Buddies thru Bullies, click the link below:
http://www.englishbulldognews.com/forums/forumdisplay.php?90-FLORIDA-Buddies-Thru-Bullies
Please tell them that you found them on English Bulldog News!