Bully lov'in wonder from down under

Mar 25, 2012
6,731
420
Country

Australia
Bulldog(s) Names

Ftse
Available Bulldog: Miley
Name: Miley
Age: 8
Gender: Female
Location: SF Peninsula, CA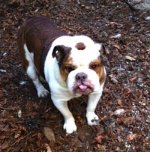 Reason given up for adoption:
Owner unable to afford to care for dog.
Temperament:
Wonderful with small children, other dogs, cats and people.
Health Condition:
Good at present, recovering from breast surgery
Placement Limitations:
Northern Calif only, should not climb stairs several times a day.
Special Needs:
Yes
Comments:
This pretty girl has had a tough life but you would never know it for her wonderful temperament and attitude. She was bred several times and her puppies sold in a shopping center parking lot when a good samaritan was concerned for her well being and offered her then owner money to purchase her. Sadly this caring person's life has changed and she can no longer keep Miley. Miley is good with small children having helped raise her owners 3 year old child. She is very tolerant of other dogs and is reported to be good with cats as well. She lived with a small maltese. She is a master of the tail wiggle to express her joy at seeing new people. She is crate trained and house trained. She is quick to go out and accomplish her potty duty and is eager to return inside. She is a total house dog.
Her health is very good although she may be a pound or two overweight (the holiday food probably!!)
She will require lubrication for dry eye daily. She recently had a breast mass removed surgically and is recovering from that.
She will make a wonderful addition to almost any family. Please have an application on file prior to requesting any additional info on Miley.
Wanna Adopt?
Please view the adoption process and fill out an application at their website ---> norcalbulldogrescue.org
To view more available English Bulldogs from this rescue, click this link ---> NorCal Bulldog Rescue
Please let them know you found them on English Bulldog News!

Last edited by a moderator: