Bully lov'in wonder from down under

Mar 25, 2012
6,731
420
Country

Australia
Bulldog(s) Names

Ftse
Available Bulldog: Marge
To inquire about adopting this Bulldog, please use the Contact Information shown below. Please allow up to two weeks for a response to your inquiry.
Name: Marge
Age: 7
Gender: Female
Location: Near Sacramento, CA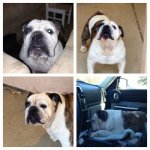 Reason given up for adoption:
Stray
Temperament:
Excellent
Health Condition:
Good
Placement Limitations:
Northern Calif only, no kids under age 8, no history with cats, appears tolerant with other dogs (see note below)
Special Needs:
Yes
Contact Information:
vanitybulldogs@sbcglobal.net
Comments:
Marge is a spunky and sweet girl who is looking for a soft couch to call her own. She is very affectionate, and loves to have complete conversations with her people and express her opinions. She is potty trained and has been working on her crate training and walking on a leash skills. When Marge came into rescue, she was completely deaf, but since being treated for double ear infections is getting some hearing back (and is very excited about it!) Marge does have dry eye which will need to be treated daily. If you are looking for a companion who is full of personality and loves snuggling and being with you, Marge may be your girl!
Note: Although Marge has been great with her 4 year old human foster sister, she will not be placed with children under 8 since she can be easily startled out of a deep sleep. Also, Marge appears to be okay with other dogs, but has not been out with her foster brothers/sisters. She would probably be fine with a laid back male with the appropriate introductions.
PLEASE MAKE SURE THAT YOU HAVE COMPLETED AN APPLICATION BEFORE REQUESTING MORE INFO ON MARGE.
Wanna Adopt?
Please view the adoption process and fill out an application at their website ---> norcalbulldogrescue.org
To view more available English Bulldogs from this rescue, click this link ---> NorCal Bulldog Rescue
Please let them know you found them on English Bulldog News!

Last edited by a moderator: