Snookie ain't got nuttin on me!
Feb 6, 2012
4,928
181
Bulldog(s) Names

Brutus (EBD 6/4/11), Chanel (Pitbull 12/23/06)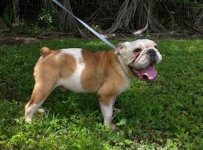 Bruiser is a happy and cute little guy, unfortunately, with big problems. He was an owner surrender to another rescue that then asked BTB to take him in. He is 6 years old, great with everyone, but has cardiac issues. He has Pulmonary stenosis, a murmur, and an arrhythmia that will result in congestive heart failure. Pulmonary stenosis a congenital defect characterized by the narrowing and obstruction of blood through the heart's pulmonary valve, which connects the pulmonary artery to the right ventricle of the heart. Bruiser is being monitored and treated with medications but his prognosis is guarded. (We are also looking for a foster home for Bruiser)
HOW TO ADOPT:
Here is the site for Buddies thru Bullies.
Thank you so much for taking the time and considering one of these orphan Bulldogs.
If you are interested in adopting, go to
http://www.buddiesthrubullies.org/
and fill out an application.
To view more Bulldogs for adoption through Buddies thru Bullies, click the link below:
http://www.englishbulldognews.com/fo...s-Thru-Bullies
Please tell them that you found them on English Bulldog News!