Jan 19, 2017
4,135
275
Country

USA
Bulldog(s) Names

Bella (EBD) Roxy (pit mix) Tyson (pit mix) Sadie (boxer)
Thread Starter

Thread starter
Look at that mug! Hahahaha...she is a cutie. I am so curious as to how much Louie is going to weigh. Both parents are show dogs so within the AKC standards but his grandfather is over 70 pounds. The breeders don't think he will be in the 70 pound range though.
I was hoping for a smaller dog (but of course wouldn't trade her for the world) we will have to wait and see!
She looks small to me compared to my other pups, but has a personality twice as big as her body! Lol
Bella's Dad!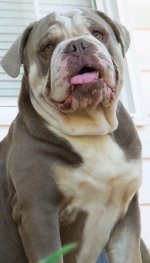 Bella's mom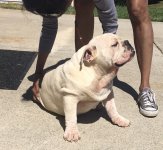 Bella! (After one too many! Lol)