Jan 19, 2017
4,078
148
Country

USA
Bulldog(s) Names

Bella (EBD) Roxy (pit mix) Tyson (pit mix) Sadie (boxer)
Thread Starter

Thread starter
What make is that harness? Looks interesting.
Got it off of Amazon-My Pets America dog harness and leash set for under $16! I love it! Nice sturdy leash came with it. I am actually. Thinking i need to get her a large. She is 52 lbs and the medium is just fitting her now. They also have a lot of choices for colors. Even a leopard print! Lol
Here are some better pics of it on her.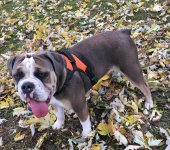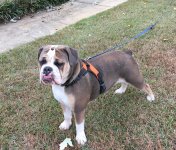 She was helping us rake leaves! Haha