i use this as Sarah's shampoo now and i really like it. It really takes care of her itching and the black on her back and yeast problems. I also use it to soak her feet in. She does not itch her back and feet anymore like she used to since using it.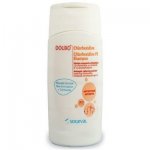 Chlorhexidine has a strong bactericidal and bacteriostatic activity on the Gram positive and Gram negative bacteria. Climbazole is an imidazole compound active on most pathogenic fungi and yeasts (Malassezia pachydermatis). Phytosphingosine – salicyloyl is a modified pro-ceramide which possesses anti-inflammatory and anti-seborrheic properties. It helps control the cutaneous disorders associated with pyoderma. Both the antibacterial and antifungal activities of the lipo-amino-acid complement those of chlorhexidine. The Lipacid also acts as a moisturizing and restructuring agent by allowing a lipo-protidic film to deposit on the skin.
This long-lasting film resists rinsing, and thus protects the skin from ir
Lathering solution formulated with gentle hypoallergenic cleansing bases – pH = 7 Phytosphingosine – salicyloyl (0.05%) – Climbazole 0.5% - Lipacide® C8G (2.5%) - Chlorhexidine (3%)
ritations and loss of moisture. The formula of DOUXO® Chlorhexidine is suitable for frequent use.

Last edited: