Bully lov'in wonder from down under

Mar 25, 2012
6,731
420
Country

Australia
Bulldog(s) Names

Ftse
Available Bulldog: Briskett/Chuck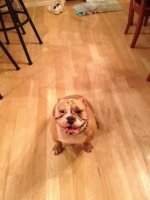 Briskett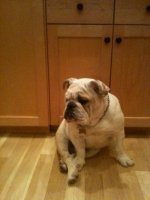 Chuck
Reason given up for adoption:
owner's change in work hours
Temperament: Brisket
sweet, energetic
Health Condition:
Good
Placement Limitations:
Will be adopted with my best friend and buddy Chuck (see his profile for more info) Northern California only. No cats, we prefer a home where we can be the only dogs. No kids under 6.
Special Needs:
No
Comments:
Briskett and Chuck will remain with their current owner till a home is found for them to avoid any unnecessary changes in their lives.
Here is what Briskett's dad writes about her:
Briskett is a bundle of energy (by bulldog standards). She always prances at the slightest possiblity of attention. She has always lived with another dog. She had surgery as a young girl to have her entropion corrected and she is spayed. She understands sit, but not for long and does respond to voice recall. She is a ham for human attention and loves an active household. She's happiest with her head on a lap or on her back getting a belly rub. When she walks around the house her little tail never stops wagging.
They are local celebrities in their neighborhood and enjoy saying hello to people. Their exuberance make them inappropriate for toddlers or very small children but they have lived with a 7 year old.
They have been crate trained.
You must have an application onfile to receive any additional info on Briskett and Chuck.
Reason given up for adoption:
Owner's change in work hours
Temperament: Chuck
Loves people, doesn't like all other dogs.
Health Condition:
Excellent
Placement Limitations:
With his sister Briskett please. Northern Calif only, no cats, no kids under 6.
Special Needs:
No
Comments:
Chuck is all bulldog by every measure. He is papered and microchipped and is neutered. He is in great health and has a great temperament with people. He does like to adopt a "tough guy" posture with some other dogs so he needs additional training in that area. He loves to get on Briskett's nerves but it goes both ways with those two! With walks, he is not a big fan. He prefers to come up and get some love from a person, then likes to go find his own space and layout. He is fairly good with voice commands also and does sit (when he feels like it) He has been crate trained since puppyhood.
Wanna Adopt?
Please view the adoption process and fill out an application at their website ---> norcalbulldogrescue.org
To view more available English Bulldogs from this rescue, click this link ---> NorCal Bulldog Rescue
Please let them know you found them on English Bulldog News!

Last edited by a moderator: