Have Bulldog Will Travel

Staff member
Jan 20, 2016
4,140
961
Country

United States
Bulldog(s) Names

Lala, Dozer, & Chesty
to good use.
Forty-six pieces of wood(Cypress, Red Oak, Curley Maple, Cumaru, Brazilian Cherry, Domestic Cherry, Ipe, Honduran Mahogany, Sapele, & Machiche. It took months to accumulate the strips...all leftover ripping strips from jobs we've done. We set about joining, ripping, gluing, planing, glass scraping, sanding, and sealing.
Almost done with our new Kitchen Table Top, this week as time permits, we will finish it off with Epoxy Resin. This will be first attempt using resin other than on a surfboard. I could use some luck!
Glued up...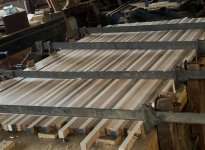 Glass scraped and sanded...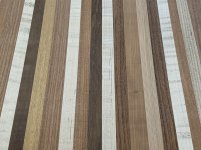 2 coats of sanding sealer on the back side...