Moderator

Jan 8, 2013
2,869
198
Country

Sweden
Bulldog(s) Names

Boeboe, Bennie Boy and Joey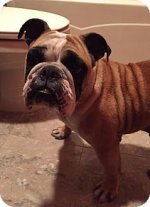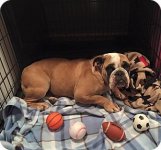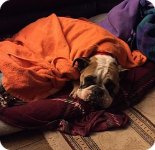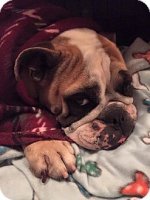 Holly Holiday's Info...
I am already spayed, purebred, up to date with shots, good with dogs, and good with cats.
Holly Holiday's Story...

Hi my name is Holly Holiday and I am four years old. I recently received the gift of freedom as I was rescued from my former life as a mill dog. I will soon be getting spayed and look forward to no longer having to churn out puppies. I will be able to enjoy my life as it should be, as part of a loving family (another gift). I am looking forward to the attention, love and care of my forever family and will give them unconditional love in return. Until then, I have been working to getting myself ready to be the best companion I can be. As a former mill dog, I haven't been given the opportunity other dogs my age have received. In fact, I recently scaled my first set of stairs. My foster parents have been helping me and they keep saying, "Good girl!" but I'm not sure yet what that means. I'll get there, but I just need a little patience. Yeaa-ah, definitely some more patience.
Eating — Right now my foster parents have me on Zignature duck (wet and dry) and it's yummy. The wet is easier for me to eat with the two little nubbins I have for my two front bottom teeth (I may have tried to chew my way out of a cage or two). My foster parents make sure to soften the dry food a little and mix it with the wet so that I can get it down easier. Right now I like eating out of a shallow pie pan, which just seems easier for me with my under bite.
Crate — I'm comfortable and feel most secure in my crate, which is what I'm used to growing up. In fact, I spend most of my time in there. My foster parents will leave the crate door open when they are home, but I still like to just chill out in my crate. My mommy has been recently taking me out into the other rooms (still on leash) so I can lie near them on my soft bed and snore, er…I mean, snooze. After being out a few times, I am starting to open up about life outside of my crate. But one little move, sound or look from my parents, and I go running back to my crate. I'll eventually get there.
Water — I'm not very interested in water, but I know I need it. I will take it if my foster mommy puts water on top of a small tupperware lid and hand feeds it to me (maybe I'm training her…). She has tried chicken broth in water and Gatorade to entice me, but I'm good with plain water. You just have to keep trying. We'll see if this new hamster water bottle will help.
Walks — I do pretty well on walks, but I like to take my time and don't go very far (it has been too cold for me). Again, so many of these things I'm doing for the first time in my life so I need a little practice. I think when the weather gets warmer and I get to know my surroundings better I'll enjoy going on short walks with you.
Baths / coat — I got my very first bath when I came into foster care and boy, was I a dirty girl! However, after getting a few baths under my belt, I'm starting to look like the belle of the ball. I just heard my foster parents say that my coat is starting to shine (I think it is the better food and baths). My first bath experience was a little nerve racking as I couldn't get my footing on the towel but my new rubberized tub mat gives me the stability I need.
Housetraining — I am not housetrained and still leave presents for my foster parents just like the elf on the shelf taught me. My foster parents are working with me on this and I am getting used to the training pads, but you have to understand, I have never been taken outside to go potty. Did somebody say patience?
Personality/demeanor — I am very sweet, but very cautious of my surroundings. I would never hurt a fly. I am just not used to having the loving touch of a human. I do love to have my face held and my lips and cheeks rubbed. I also love to give kisses.
Dogs/cats — I've met my other four-legged friends of the house - a very big dog and an equally big cat (I think he needs to go on a diet) and have had no interest in either of them. I will acknowledge them with a sniff here and there, but generally leave them alone.
Stairs — I did stairs for the first time the other day and did good going up and coming back down. I take it very easy one step at a time but my foster parents thought I did great for probably not having had done steps before.

Update: I've been ADOPTED!
To view more available English Bulldogs from this rescue, click this link ---> Chicago English Bulldog Rescue
Please let them know you found them on English Bulldog News!