Nov 17, 2011
1,061
46
Bulldog(s) Names

Rook
Oh wow! Don't even know what to say besides THANK YOU! THANK YOU! THANK YOU! to [MENTION=4688]Baconator[/MENTION], [MENTION=4676]thesspa[/MENTION], Bacon, and [MENTION=983]LariP[/MENTION]!!!

A surprise arrived in the mail yesterday with an HRH original hooded fleece for Rook!

I absolutely love it, and Rook loves that it matches Bacon's fleece!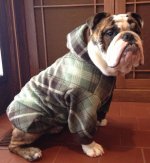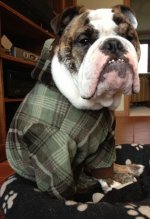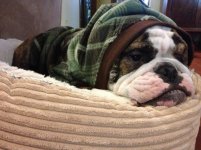 (Rook was a tuckered out from a day of bully shenanigans when I took these photos; he really is much more enthusiastic about the fleece than he looks

)
I don't know how we got so lucky, but you all made my day, week, and Christmas!!! THANK YOU!!!