Thank you very much for participating in this fundraiser!
100% of the Proceeds of this Auction will go to
Indiana Bulldog Rescue
You can donate directly to IBR by visiting their website
:
Indiana Bulldog Rescue - Home
The goal of our 501(c)3 nonprofit organization is to provide English, Olde English and French Bulldogs a safe haven, where they will receive medical care, nutrition, and love until an approved home is found. To reduce the number of homeless Bullies by altering all dogs prior to placing them in our re-homing program. To educate the public about the importance of altering pets, and to promote the message that owning a pet is a lifelong commitment. All
IBR
Bullies are placed in the homes of approved volunteers until they are adopted into homes that have been carefully screened for placement. Upon intake into our program, each dog is examined by a veterinarian, and necessary treatment is administered.
IBR
rehabilitates and re-homes English, Olde English and French Bulldogs who come to us from animal shelters, families and less than ideal situations.
Meet Cooper:
This is Cooper. He is a French Bulldog with Megaesophaugus. He was surrendered by his owners at 11 months old.
Indiana Bulldog Rescue
was able to have Cooper seen by our veterinarian, his Megaesophagus evaluated appropriately, neutered and vaccinated. We also were able to reach out to Bailey Chairs 4 Dogs and they donated a chair to Cooper so that he could eat up right. Our beloved followers raised money to have it shipped. Since there is no cure for ME, there has been a lot of trial and error with Cooper's treatment. He has done fabulous! He has gained 6 pounds and is just a happy little guy! He is now waiting on the perfect home.
Meet Spencer: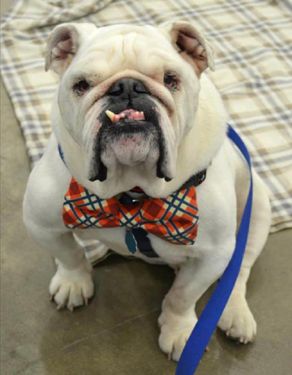 This is Spencer. He is 7 years old. He was surrendered by his owner. Once he came to
Indiana Bulldog Rescue
, it was noticed that Spencer has a sizable growth on his right rear leg and hip. The mass was biopsied with "inconclusive" results. Unfortunately the mass is inoperable and has grown rapidly. He stumbles occasionally with his rear legs and seems to be slowing down some days. His foster mom sometimes has to coax him to get up to go outside. Other days he's still very playful. At this point, we will do all we can to keep Spencer comfortable.
Please help and bid for bullies at
IBR
!
100% of the Proceeds of this Auction will go to
Indiana Bulldog Rescue
You can donate directly to IBR by visiting their website
:
Indiana Bulldog Rescue - Home
If you would like to donate items for our future auctions please contact @
dolphin