Thank you very much for participating in this fundraiser!
100% of the Proceeds of this Auction will go to
Buckeye Bulldog Rescue
You can donate directly to Buckeye by visiting their website
:
Buckeye Bulldog Rescue - Home
Rescue Information
Meet Lil' Miss No Hair & Lil' Miss Some Hair:
Lil' Miss No Hair
Lil' Miss Some Hair
These little angels came to
Buckeye Bulldog Rescue
as owner surrenders. They were dropped off to our vet by a 'neighbor' and they had no names when they came in. Neither one is even a little bit potty trained. The girls are currently being treated at our vet for a multitude of issues: both have demodex mange, are infested with parasites, and are ravenous. Both also have eye and ear infections. We are awaiting fecal and heartworm test results. One of the girls does have a heart murmur. These little ladies have a long road ahead of them, but
Buckeye Bulldog Rescue
is committed to getting them the medical care they need & getting them back to good shape.
Meet Mac:
This handsome fellow came to
Buckeye Bulldog Rescue
as an owner surrender. He seems to be a total loving sweetheart so far. He loves playing with his toys and he loves getting a bath. Mac also enjoys playing with other dogs.
Mac will require a lot of medical attention, however. He has had one
cherry eye
removed (prior to coming to BBR), and the other still needs to be taken care of. Mac is also not yet neutered. The vet has also brought to attention the need to take care of his elongated soft palate, and he has been to an orthopedic specialist for radial growth abnormality. This surgery will be quite costly.
Mac's medical needs will be costly to the rescue, but – as always – we are committed to getting this boy healthy!
Meet Titan: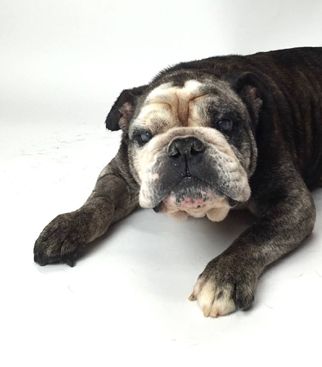 Titan came to
Buckeye Bulldog Rescue
form a shelter, where he came in as a stray. Titan was in pretty bad shape, so BBR rushed to get him. He has been staying with our vet until we get him in a bit better shape, and he'll be going to his foster home soon!
So far the our vet had this to say: Titan is so sweet, a hospital favorite! Everyone loves him! He is old. He can not see very well because his eyes have not been cared for in the past. Has a heart murmur. Dry eye. He was just neutered and had his teeth cleaned. As far as we can tell he gets along with other dogs, cats and I would assume humans of all sizes. He has shown us no aggression. So sweet!
We are very happy to be able to help this old guy out. He looks like he's probably had it pretty rough, so we'll get him into a loving foster home & nursed back to health.
Please help and bid for bullies at
Buckeye Bulldog Rescue
!
You can donate directly to Buckeye by visiting their website
:
Buckeye Bulldog Rescue - Home
If you would like to donate items for our future auctions please contact @
dolphin