Thank you very much for participating in this fundraiser!
100% of the Proceeds of this Auction will go to
Keystone Bulldog Rescue SW PA
You can donate directly to their rescue by visiting their website
:
http://www.keystonebulldogrescue.org/
Keystone Bulldog Rescue
of SW PA, Located but not limited to Southwestern Pennsylvania, servicing these wonderful breeds! Dedicated to the care, rescue, rehabilitating and re-homeing of homeless, neglected and abused French, English, Olde English, and American Bulldogs needing a safe loving home.
This rescue was recently established this year and really need help with donations. They have many bulldogs in their care on medical hold, so your donations will really help this new rescue get established! Below are just a couple of many who are needing our help!
Meet Miss Fiona:
About Miss Fiona: Her owner adopted her at the age of five weeks to save her from being destroyed, because she was diagnosed to have Spina Bifida. Over the course of years just accepting the diagnosis and treating symptoms our Miss Fiona was resigned to a life with diapers and eventually to be kept outside with no diapers. We knew this was not a good situation for Fiona but it was all the family could provide . When we arrived we found Fiona tethered to the wheel of a trailer on a short lead and her only shelter from the weather was to crawl underneath. We are unsure how long she lived outside but this is not good no matter how long it is. She is all white but her hind quarters were stained from Urine and feces that she laid in. She had a deep ulcerated sore on her hip from not being able to move about freely and laid on it all the time.
Meet Boss: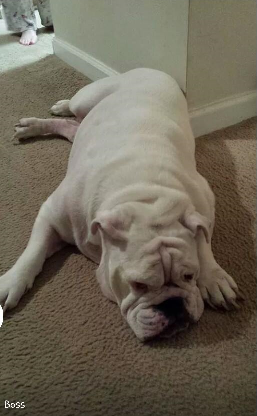 About Boss: Well Boss's first week has been tough on our boy. First thing when he arrived after that long 8 hour drive home, he got a good bath and his nails trimmed which was very much needed. Next day off to meet his new Dr! Weighing in at 77 pounds and putting up with their poking to find that he had a severe infection in his ears and eyes. We knew that he was deaf, but learned from the infections he had lost his vision. Four days into the antibiotics as the infection starts to heal we're learning that he can see shadows and so we're hoping he'll regain some of his sight back. But even the shadows we'll take! In addition, he has skin
allergies
and infection and an infected tail which we don't know as of late if they'll be able to save his tail or have the surgery to remove it. He has so much going on with his eyes. The skin has thickened and is curling inward around his eyes which we're hoping he'll respond to the medication so as to avoid that unpleasant surgery and he does have two cherry eyes that need to be surgically corrected. We were encouraged by his bloodwork that came back negative for heartworm, and it's just showing all the infection. His Foster Mom tells me that he is eating well, and walks well with her, and he does sleep a lot and that's normal with all the meds and the fact that he must be starting to feel a little bit better too.
Please help bid for Miss Fiona and Boss!
You can also donate directly to Keystone Bulldog Rescue SW PA by visiting their website
:
http://www.keystonebulldogrescue.org/
If you would like to donate items for our future auctions please contact @
JeannieCO