Please Read the Auction Rules:
Auctions End on
Sunday, March 9th at 9 pm EST!!!
To bid on this auction, just simply reply with the opening bid listed above. Next user/bidder should bid a
minimum
of $1.00 higher than the first!!!
PLEASE NOTE:
Your bidding price does NOT include shipping!
Keep that in mind when you bid. Estimated Shipping costs are added to the auction below the opening bid. Shipping cost listed in Auction are for USA bidders.
International Bidders: Are welcome!!! But will need to pay additional shipping costs if the shipping charge does not cover the entire shipping cost.
If you are the winning bidder you must log in to English Bulldog News and check your personal messages for further instructions on making payment. If winning bidder does not respond & pay for the auction within 5 days we will contact the runner-up bidder for a second chance offer.
Please respond and pay quickly, because we need to send the funds to the rescues as quickly as possible.
The bullies are waiting for you!
If you don't have sufficient funds, please don't bid and make them wait!
Winning bidders will need to make their donation via PAYPAL. Please do not bid if you do not have a Paypal account.
Community Veterans have the choice to pay by personal check.
Any accrued unused shipping cost will be included in the fundraiser, so if your shipping cost ends up being less that the actual shipping cost any extra goes to the bulldogs!
Thank you very much for participating in this fundraiser!
100% of the Proceeds of this Auction will go to
Buddies Thru Bullies in Florida
You can donate directly to BTB by visiting their website
:
http://buddiesthrubullies.org/
Founded in 1995,
Buddies Thru Bullies
is a 501c3 not-for-profit English Bulldog Rescue organization based in South Florida
whose mission is to rescue, rehabilitate and re-home abandoned, abused and neglected English bulldogs.
BTB works cooperatively with animal shelters throughout Florida and takes in abandoned and neglected English bulldogs that often need veterinary treatment prior to being considered for adoption. The organization also takes in stray and surrendered dogs directly from individuals. All dogs receive an examination by a veterinarian, vaccinations and are spayed/neutered prior to adoption. Many require extensive veterinary treatments as their condition is often very poor at time of intake. Volunteers screen potential adopters and provide education about the breed. BTB participates in community events and provides information to the public about the option of adopting from shelter and rescue organizations.
During the adoption process, we work hard to match the right dog with the right family. Some bulldogs may be great with kids and others not so much. Some bulldogs may enjoy the company of other dogs, while some prefer a more solitary one-on-one relationship with their humans. For us, it's all about doing the right thing to give our bullies a second chance.
Helping create new beginnings for a loving Bulldog is why they're here. Too many are abandoned, abused, neglected, and surrendered for financial reasons or un-forseen circumstances. Together we can help their voices be heard and give them an opportunity to have a family to call their own for the rest of their precious lives.
Meet Ryder:
Ryder:
Ryder is approximately 2 years old and a very handsome boy! He came to BTB heartworm positive and needing
cherry eye
surgery in his right eye. Ryder is currently completing heartworm treatment before can undergo surgery. After that, he will need to have both
cherry eye
surgery and a complicated neutering known as a scrotectomy. This sweetie pie is great with people and he knows how to give paw! However, Ryder appears to need to be an only dog, as he is not fond of the others!
Meet Matilda: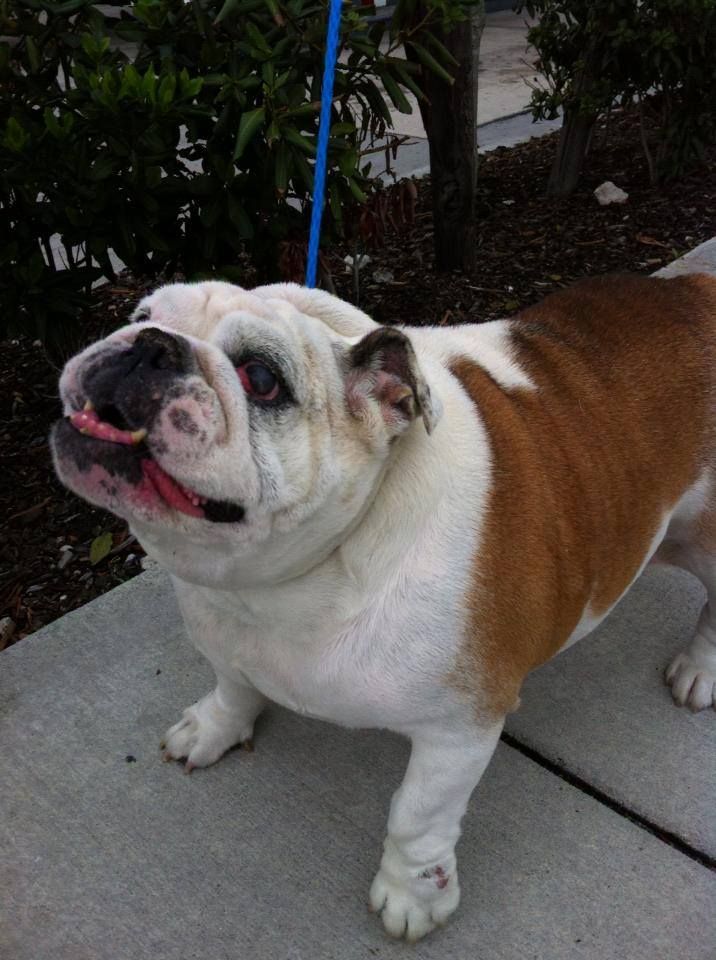 Matilda:
Recent rescue is senior bullie Matilda (taken in by BTB after first rescue commitment did not take her). Matilda is quite overweight and needs to lose some pounds before treatment can occur due to worries about anesthesia. Matilda has mammary tumors that need to be removed; needs
cherry eye
repair, and to be spayed. She is a sweet senior who was picked up as a stray.
Meet Cisco:
Cisco:
Cisco is a wonderful bullie boy about 9-10 years old. He is on Rx food for his skin, drops for dry eye, but, sadly, was diagnosed several months ago with significant heart disease and is on multiple extremely expensive medications. He is now a Sanctuary bullie and not available for adoption, but is in a wonderful foster home where he gets the attention and love he needs. Cisco loves to amble around the garden and to chew on bones. He is a happy boy who is slowing down now, be we hope will be with us for many more months.
Please help bid for Ryder, Matilda and Cisco and the other bullies at
Buddies Thru Bullies
!
You can donate directly to BTB by visiting their website
:
http://buddiesthrubullies.org/
If you would like to donate items for our future auctions please contact @
JeannieCO