Thank you very much for participating in this fundraiser!
100% of the Proceeds of this Auction will go to
Pacific Northwest Bulldog Rescue
You can donate directly to their rescue by visiting their facebook
:
Pacific NW Bulldog Rescue on facebook
The mission of
Pacific NW Bulldog Rescue
is to provide education, prevention, intervention, and adoption services to ensure that all English Bulldogs and French Bulldogs enjoy long, healthy lives in loving, safe, appropriate homes where they are provided the life-long care they require. We commit to each English Bulldog and French Bulldog and adopter(s) we serve for the life of the dog. In the event that an adoption is unsuccessful, the dog is to be returned to PNWBR. We serve Washington, Oregon, Idaho, Montana, Alaska, Utah and British Columbia. Our organization is responsible for rescue and rehome of Bulldogs within Division V.
Pacific NW Bulldog Rescue
is a 501c(3) Non Profit organization.
Meet Snookie:
Snookie's story from PNWBR: So here is Snookie, she came to us when the people who bought her from a puppy mill could not handle her anxiety issues. She has never lived in a house,

and never got socialized. Despite her horrible life she loves people and dogs, and is getting accustomed to living a normal life in a house, but has taken a lot of time and patience. Snookie is in need of a palate resection and still needs to be spayed.
Meet Brownie: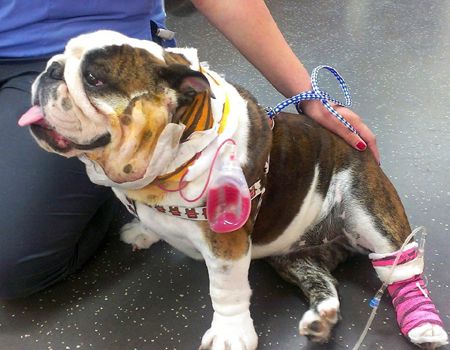 Brownie's story from PNWBR: Here is Brownie. Brownie came to us via a back yard breeder who wanted to breed her, but she got this mass on the side of her face that they could not afford to treat so they kicked her outside where she lived. When a friend saw what was happening they encouraged the owners to call us. When we got Brownie she was in full throttle heat stroke and was rushed to a local ER vet that saved her life. Brownie underwent a 6 hr surgery to remove her mass and has been in recovery ever since (3 months). She is finally in foster care as of this week! Yay!! Her surgery and care has a HUGE bill that needs to be paid and of course Brownie came in with an empty wallet. Your bids will help!
Please help bid for Snookie & Brownie!
You can donate directly to their rescue by visiting their facebook
:
Pacific NW Bulldog Rescue on facebook
If you would like to donate items for our future auctions please contact @
JeannieCO