Thank you very much for participating in this fundraiser!
100% of the Proceeds of this Auction will go to
English Bulldog Rescue Network of Houston
You can donate directly to EBRN of Houston by visiting their website
:
EBRN Contact Us
EBRN Houston
usually has around 15-20 bulldogs in their rescue at a time, and many of them are in severe neglected condition. They desperately need funding to keep up with the intakes as well as foster homes and volunteers!
Helping create new beginnings for a loving Bulldog is why they are here. Too many are abandoned, abused, neglected, and surrendered for financial reasons or un-forseen circumstances. Together we can help their voices be heard and give them an opportunity to have a family to call their own for the rest of their precious lives. Below are two recent intakes of
EBRN Houston
, Pearl and Agnus, and the donations will help save others like them in the near future!
Meet Pearl: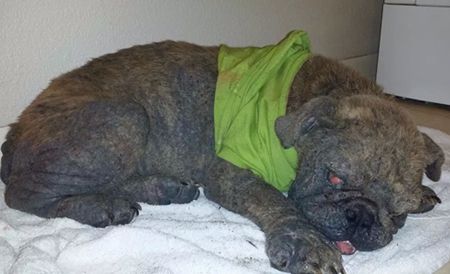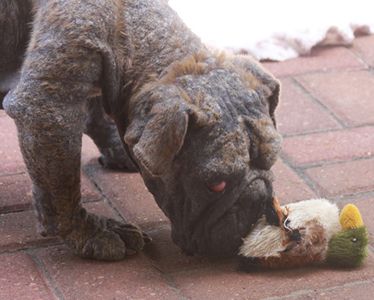 Pearl has been neglected her entire young life. It is hard to imagine that she is less than a year old. She was found through a listing on Craigslist, titled "Free Bulldog". The owner gave the dog away, only to be returned a week later, saying "It was not working out". That is when English Bulldog Rescue Network Houston immediately stepped in to rescue Pearl.
When the rescue saw her, they were amazed and shocked. Her skin was completely crusted over with no hair on her 28-pound body. She had
cherry eye
in both of her eyes. She had not been spayed and had a severe ear infection that penetrated deep into her left ear. On top of it all, Pearl is battling tapeworm, has a heart murmur and an enlarged heart. It will take months of expensive treatments to just help Pearl overcome Demodex mange. English Bulldog Rescue Network Houston has immediately given her medicated baths, Ivermectin, Clavomax, TMPS, ear flush, ear medications and eye medications. They recently had her heart checked through ultrasound.
What is most disheartening is that Pearl is completely "broke". The rescue has never seen a dog with such a broken spirit. She trembles at the site of humans and refrains from doing what happy puppies love to do. Playing with toys or even going to the bathroom are heavy burdens for Pearl. But, every day the rescue sees signs, however small, of Pearl learning to trust again. She loves her duckie and is making new bully friends in her foster home and is settling in for her long road to recovery. Rumor has it, she even has a boyfriend now named Gordon!
Thanks to English Bulldog Rescue Network Houston, Pearl is now safe.
Meet Agnus: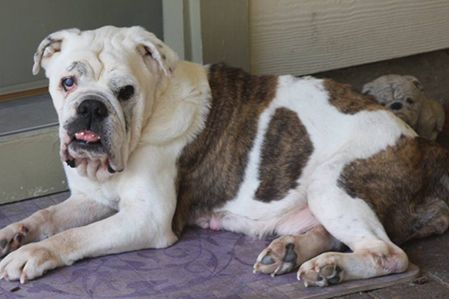 EBRN recently did X-rays on her colon area to make sure she did not have any Masses. She has been having an issues going potty. Good news she is clear. We also did blood work to check her liver/kidney values. Good News everything looking Good. She did get an Enema, helped a lot ! She is on stool softener and changed up her diet. She has gained 6 pounds since she came into resq. This Old Gal is a Fighter !
Update from
EBRN Houston
on 6-5-2014:
Agnes had her Spay and mastectomy today we had to do it because of Pyrometra and Mastitis. We are sending out the Tumors I am sure they are Cancerous

We are only doing the one side because of her age. Her blood work is good, her X-rays and lungs are good, so signs of Cancer....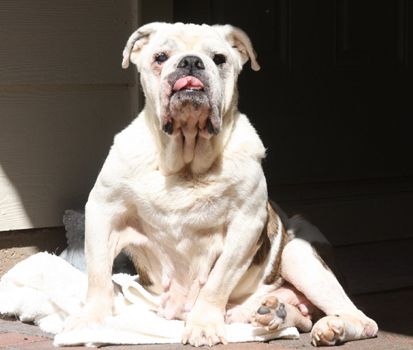 Please help bid for Pearl, Agnus, and the many bullies at
EBRN Houston
!
You can donate directly to EBRN of Houston by visiting their website
:
EBRN Contact Us
If you would like to donate items for our future auctions please contact @
JeannieCO