Thank you very much for participating in this fundraiser!
100% of the Proceeds of this Auction will go to
Southern California Bulldog Rescue
You can donate directly to SCBR by visiting their website
:
Welcome to Southern California Bulldog Rescue - Southern California Bulldog Rescue
Southern California Bulldog Rescue provides shelter, re-homing assistance, and funds for medical treatment for over 100 bulldogs each year. These dogs come to us from animal shelters, other rescue groups, and owners who wish to surrender their purebred bulldogs. We help bulldogs in the Southern California area find suitable homes. Our network consists of many volunteers who foster, do home checks, transport, and place bulldogs who come into our program. Over 400 bulldogs have been placed thru rescue in Southern California during the last 5 years. We rely entirely on donations for support.
The mission of Southern California Bulldog Rescue is to rehabilitate and find loving families for homeless bulldogs. Our goal is to provide the care and time needed to prepare unwanted bulldogs for placement. We pledge to do our best to make sure they have a good life.
Meet Moses: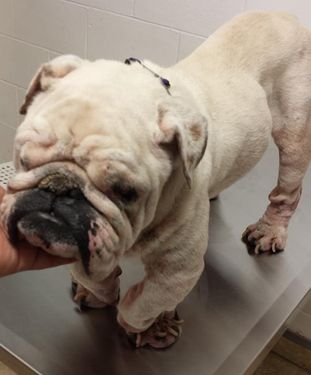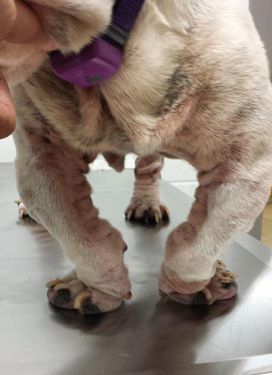 Meet Moses, name in honor of his advance age and his wonderful white color. He's a bit over 9 years old, but get's around very well for his age and even has a bit of a 'happy trot' when he get's going.
He was listed as a 'stray' at the shelter, no owner came looking for him and worse for him no one was showing a lot of interest in adoption his medical issues - plus his advanced age. Moses's joints are a mess from being deform to the point of being bowed or perhaps broken when young and not fixed or set to correct the damage to his front legs. The eyes and skin are more signs that he was neglected over a very long time, smelling of yeast infections and his eye sight nearly gone from infections. His toe nails so long his 'toes' are deformed so bad he has no flat foot to stand on.
SCBR is going to be looking for a home soon! No reason Moses can't be part of a family that is accepting of his age and some physical limitations now.
Meet Chip & Dale: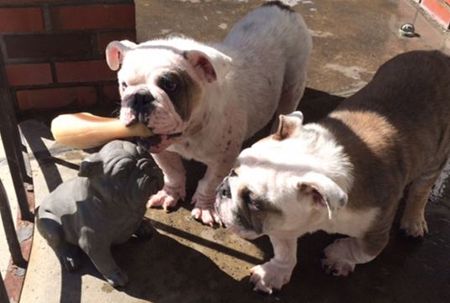 These puppies are the result of a backyard breed-for-greed situation…part of the 'mini bulldog' craze! Chip and Dale found their way into rescue because a young couple purchased them without realizing they were sick and in need of medical care. Of course, the breeder wouldn't take them back. After five months of medical care in rescue, they are now ready for their forever home.
Meet Luke & Leia: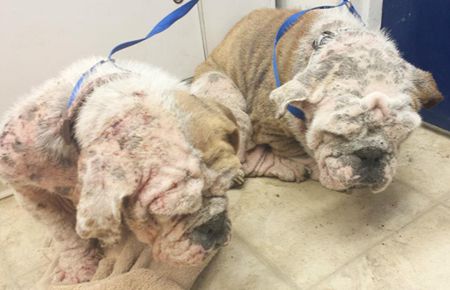 Luke & Leia are recent intakes that have severe case of Demodex mange.
Please help and bid for bullies at SCBR!
You can donate directly to SCBR by visiting their website
:
Welcome to Southern California Bulldog Rescue - Southern California Bulldog Rescue
If you would like to donate items for our future auctions please contact @
dolphin