Thank you very much for participating in this fundraiser!
100% of the Proceeds of this Auction will go to
San Antonio Bulldog Rescue
You can donate directly to SABR by visiting their website
:
San Antonio Bulldog Rescue
SABR is a small organization that is breed specific to English Bulldogs. We save bulldogs mostly from shelters but will take owner surrenders for medical reasons.
We do not have a facility, we have a group of volunteers that foster from their homes. We rely solely on donations and adoption fees to help these dogs.
Meet Hawk:
Some of the dogs we have taken in have extreme medical issues. One was Hawk who had Pemphigus and later developed Calcinosis Cutis (pictures attached) I bathed this dog daily for 4 months but he unfortunately could not be healed.
Meet Ogden: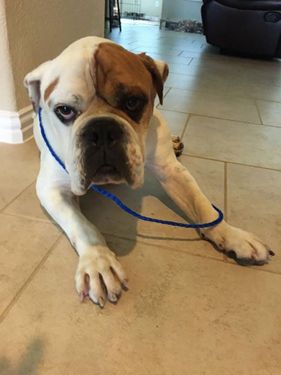 Ogden was rescued recently by SABR. Believe it or not, someone wrapped a rubber band around his foot and left it there. We took him in and had to amputate it.
Meet Piper Stone:
The famous One Eyed Painting Bulldog. She was abused and neglected. We adopted her to Jessica Stone, an Artist and Piper began painting to raise money and awareness for rescue. On July 17th, Piper did not wake up in the morning, and the whole bulldog world was shaken at the loss of this beautiful girl who was such an inspiration. RIP Piper xxoo
Please help and bid for bullies at
San Antonio Bulldog Rescue
!
100% of the Proceeds of this Auction will go to
San Antonio Bulldog Rescue
You can donate directly to SABR by visiting their website
:
San Antonio Bulldog Rescue
If you would like to donate items for our future auctions please contact @
dolphin