Thank you very much for participating in this fundraiser!
100% of the Proceeds of this Auction will go to
Moe Moe's Rescue of the Rockies
You can donate directly to Moe Moe's Rescue by visiting their website
:
Moe Moe's Rescue of the Rockies
Our Story
Moe Moe's grew out of a dream to create an animal rescue organization dedicating to helping the animals no one else seems to want. We are an all breed rescue and try to rescue any animal within our capabilities, but we like to focus on those that need a little extra TLC. Everyone who is passionate about rescuing has a story about how they got where they are, or why they do what they do. It is often reflected in the name of the organization — either in dedication to a specific animal that has moved them, or a breed that they are passionate about supporting. Although we are founded on a very special dog named Molly , you can see that we are an all breed, all accepting organization. We depend on community support through fundraising and donations to run our rescue operations. We are an all volunteer organization and have no physical location, we rely strictly on foster homes for our animals. We believe that our pets rescue us as much as we rescue them, no matter if they are homeless or shelter animals that have been deemed "unadoptable." They have ran out of time where they are and most times, there is no one willing to give them the time and extra attention they need. That is where Moe Moe's comes in. Whether placing pets in foster homes or forever homes, our role as "matchmaker" is one we take seriously. It's about giving animals and people the chance to connect and form a lifelong loving relationship. This rescue is not just about preventing needless death. It's about creating a life worth living. To us, being a rescuer to means more than just saving lives. It means making things better, for the animal as well as the owner. And we believe that all animals deserve a chance whether they are puppies ready to take on life, seniors in their golden years, or special needs animals needing medical care. So when we are asked why we save the animals we save, our answer is simple, "
Where There Is Love There Is Life
".
Meet Ace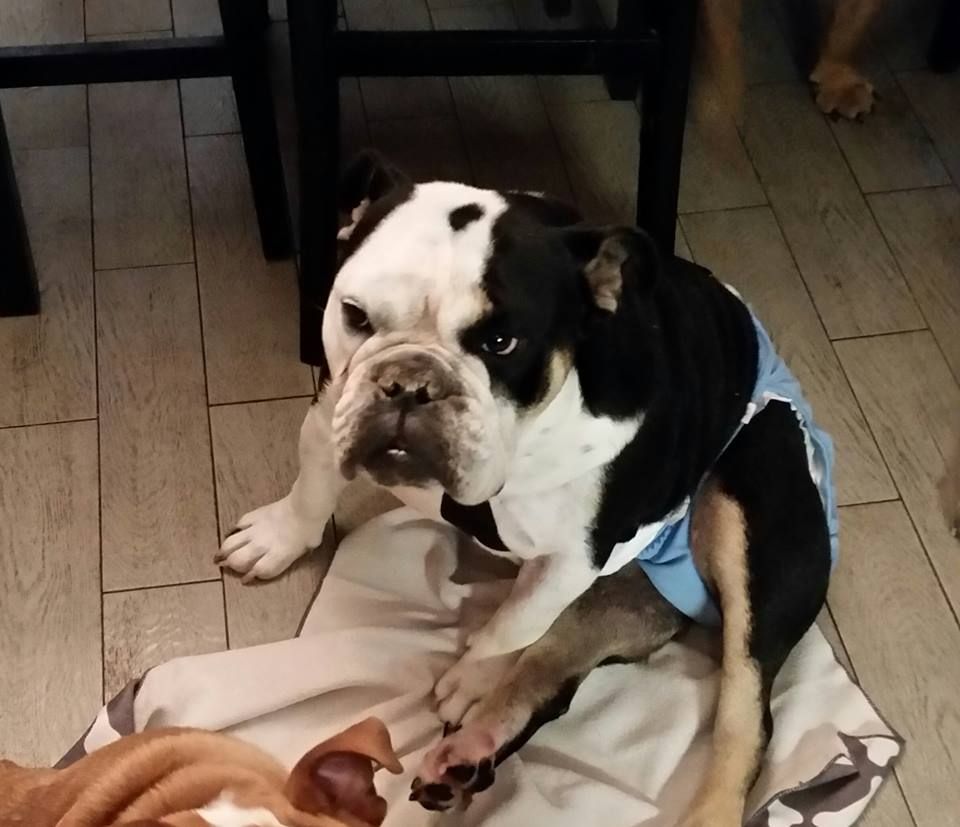 Meet handsome Ace. He is around 2 years old and one happy boy. Ace was turned over by a family after an injury to his spine which left him unable to control his bowels and move his hind right leg. Ace will begin water therapy soon in hope of him regaining use of his back leg. Until then he spends his day's sleeping on a king size bed, getting lots of love and treats. Ace is a very healthy bulldog. He has no skin issues or breathing issues. He does snore, but that's one of the things we love about him. Ace will be available for his forever home after his water therapy treatments, but until then, don't let that stop you from filing out an application on this boy.
Meet Peyton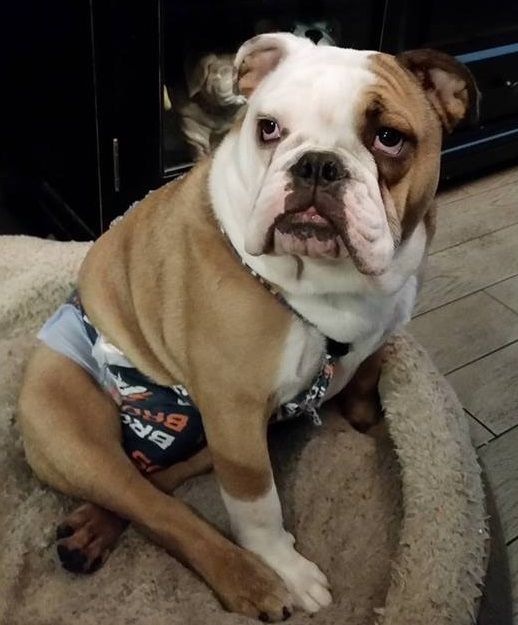 Meet Peyton, yes, he was named after Peyton Manning. Very fitting for this man that's always on the go. Peyton is around a year old. He came into rescue thru another local rescue in CO. He had double cherry surgery and neutered. Once MMRR was started he was transferred to us. Peyton was born with Spina Bifida, a medical continue which in short, means he can't control his bladder of bowels. There is nothing medically that can be done to correct this issue therefore he will require diapers for life. That doesn't stop him from being a puppy though. Peyton loves to play with his foster siblings and can keep up with them just fine. Overall Peyton is a very healthy bully but at some point we believe he may need a wheelchair. Peyton's rear left leg will give out on him sometimes. Vets have recommended a very risky surgery to try and correct it but we don't believe it's in his best interest. The surgery could leave him completely unable to walk. Peyton is available for adoption and looking for that perfect home. Could it be yours?
Meet Seth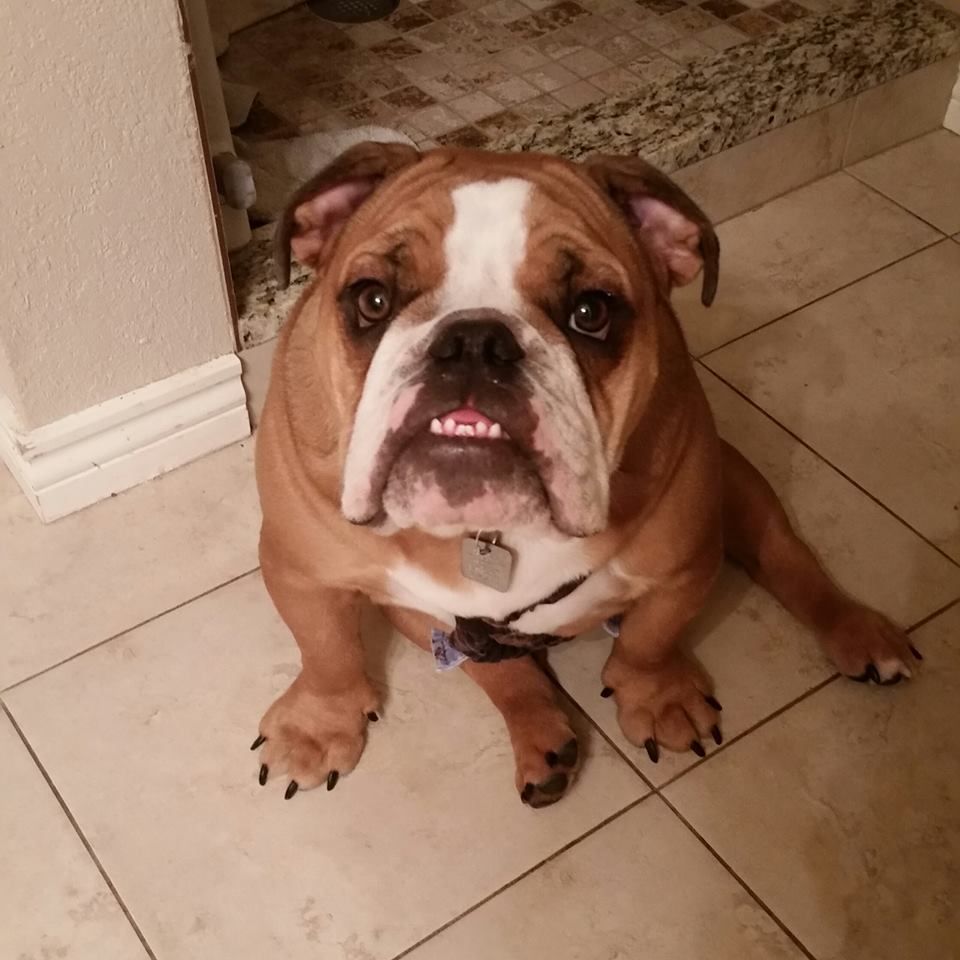 Meet Seth. This adorable little man was also born with Spina Bifida. He has full mobility and so much character. Seth has no other health issues, his skin is great. Seth is a small guy around 40 pounds but loves to sit and cuddle with people. He like Peyton, loves to play and go for walks. Seth has learned that if he wants attention, all he has to do is step on your foot for some loving. Seth is looking for a nice lap, big yard and lots of love. He is ready for his forever home.
Please help and bid for bullies at Moe Moe's Rescue of the Rockies!
100% of the Proceeds of this Auction will go to
Moe Moe's Rescue of the Rockies
You can donate directly to Moe Moe's Rescue by visiting their website
:
Moe Moe's Rescue of the Rockies
If you would like to donate items for our future auctions please contact one of our moderators.