Welcome to the one of our favorite fundraisers we do each year
the 2015 English Bulldog Rescue Raffle!
English Bulldog News would like to help raise money for 3 English Bulldog Rescues this year from coast to coast, that are working very hard each and every day to save the lives of those bulldogs out there that have been surrendered and abandoned.... many with some very expensive health issues. We have all gotten together and donated some great items so we could bring you another wonderful Holiday Raffle!
CLICK HERE TO MAKE YOUR DONATION!
Below are going to be some very sad stories and graphic photos, and these are just a FEW of the many that have been saved all year long.
We will be raising for Southern California Bulldog rescue, who rescues HUNDREDS of forgotten and voiceless bulldogs each year. I am friends with many of the SCBR volunteers and to say the amount of need is never ending is an understatement. Without them these two boys (suspected to be kin or from the same breeder due to the incredible resemblances) would not have been saved.
Moses & Stewie, two abandoned with same conditions in Southern California
We will be raising for Bullies 2 the Rescue, a wonderful rescue on the East Coast who works tirelessly all year! They have had a huge influx of many bulldogs with huge medical bills, we would like to help them raise funds so they can concentrate on healing!
This is Gilda who is just one of the many but when I saw her my jaw dropped.... just when you think you have seen so much it never ceases to amaze me what bad people will do to such an innocent girl.
Gilda is already doing much better in just about a week! Amazing.... look at her recent picture below. She is so happy already. You can also follow her journey on facebook by clicking
HERE
We will be raising for English Bulldog Rescue Network Houston, a wonderful rescue in the heart of our beautiful nation. Recently they have taken in some very expensive and mind blowing cases of mange that just break my heart to see, when we all freak out if our bulldogs have even a blemish. It will be many months of dedication to get these beauties to even be considered to be adopted.
Today, Yeti, Rhino and Iris lay in the sun, and they are just 3 of many that are currently in their rescue are healing with the help of donors and a lot of love from people like you and me, to say one person doesn't make a difference is not true, you do, and together we can save lives!
Here is a few photos of when Yeti and Iris were rescued.
The photos can bring you to tears as you thank the volunteers of the rescues for saving them.
Do I thank these rescues every day for all the hard work they do? .... no I don't but I should. Do I forget when I'm feeling a little depressed about how wrong my day is going? ..... yes. Perhaps I am a bit chilly, so I get myself the comfort of a blanket, I forget to think of those who don't have one tonight.... and when I start to whine about my aches and pains, do I remember those who cannot even get any medicine for theirs? Sadly..... No I don't. But today I am going to, and I am going to continue to try to remember them everyday. For it is not just at Christmas when they need donations from us, these types of organizations need them ALL YEAR LONG.
I ask you to consider from your heart and donate only what you can manage today, but remember next month and the month after and the month after, when you have a few extra bucks, to consider bulldog rescue as one of the charities you wish to support.
So how do you donate?
Simply donate to the 2015 Holiday Raffle for English Bulldog Rescue fundraiser located at the top of the forums on the FORUM page or
JUST CLICK HERE TO DONATE
Here's how it works:
Last day of this fundraiser is December 20th, 2015!!!
You do NOT have to be a registered member to donate, because the drawing will go by your first initial last name from your paypal donation and your prize will be shipped to your paypal shipping address.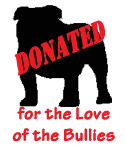 All registered donors will receive this special award for their EBN profile!
Bonus Gifts For Opening Your

Now for the best part! Since you are so willing to give your hearts and dive into your pockets, English Bulldog News is also going to have a drawing of gifts to several special donors.
The gifts are grand, but we really need to put all we can into this fundraiser.
** If this is your first time participating in our fundraiser, the chances at a gift work like this **
For each $5 you donate, you get your name put in ONCE.
For each $20 you donate, you get your name in 5 times (1 extra time).
The gifts will be drawn by an unbiased party, as an added bonus to you and a little fun for us, and the drawing will be posted on video!
You may win more than one prize this year, because there is a lot of prizes to choose from!
Click here to view the full article
and see the tons of available prizes up for grabs!