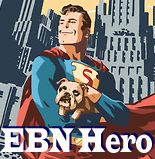 English Bulldog News is so blessed to have such an outstanding group of people, and the "English Bulldog News Hero Event" was created to honor those who go above and beyond for the community.
This year English Bulldog News has provided help in so many ways. Between rescue fundraisers, answering approximately 1000 new threads per month, sponsorships and support, EBN and the members here have given their hearts and souls to our group. Tragedy and triumph has really been an ongoing theme this year. Many tears, both of sadness and of joy have been created. Together our group has really made the difference in so many bulldogs' lives. I am proud to be a part of such an amazing group of people! Below are two people who will be honored for their tremendous and outstanding efforts throughout the year, and will be awarded with the coveted "English Bulldog News Hero" award.
Our English Bulldog News Female Hero for 2014 has shown there is not a selfish bone in her body. She is almost always online and responds to almost every thread on the forum. She is all about helping other people and all about the bullies! If she does not have the answer for someone who needs help on the forum, she will tag someone who can. She is a great shoulder to lean on when you need a friend, and she has many times shown how selfless she is. When our fellow member and friend @
RaRett
had to find new homes for his fur-kids Gizmo and Hershey, Christine picked up both of them on two different days to bring them to their new homes. Christine doesn't even think twice about spending her day off helping another person in need. With a gift from EBN and delicious food in tow, she went to see RaRett at the hospital. Earlier this year she drove hundreds of miles to rescue Mia, fostered and helped get her into the Bumper bulldog rescue. Her support in hospice, rescue efforts, and planning of our Rescue Auctions, fundraisers, and events on English Bulldog News help bring so much success to these events each year.
Yep, I am speaking of the one and the only
~
2bullymama
~
2014 Female EBN Hero!
Our English Bulldog News Male Hero for 2014 is quite the comedian.
Yep, he's all about having fun and joking around. A laugh or smile and support when needed, he is always there to deliver! However, don't let that persona fool you too much, because he has the biggest heart when it comes to helping the bulldogs! He jumped in head first to help the rescues at any chance he could, and we all know he has an undying passion for the Bro Briefs which have raised quite a lot of funding toward the rescues! He currently cross posts for several of our rescues in the
Bulldogs for Adoption
section, as well as given tons of support through hospice, auctions and fundraisers for the bulldogs in need. In the tragic event that @
RaRett
had to rehome his bulldogs, this person did not give up on the idea of bringing one of them into his family, and now he has given Hershey a new home.
You must know whom I speak of, none other than
~
Chumley
~
2014 Male EBN Hero!
Awards created by our very own Cyndi @
mavsfan4life
, please check out her website at
http://www.bellamerce.com/