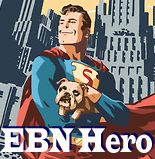 Do you have a "Bulldog Hero"? A member of English Bulldog News you look up to for all the wonderful things they do for bulldogs? If you do, now is your chance to honor them! All you need to do is be a registered member of English Bulldog News and know the EBN User name of your Hero.
~EBN Hero Award~
So what is this award exactly? It's for outstanding service to English Bulldog community!
Now we would like you to really think about your fellow English Bulldog News members. Who deserves a pat on the back for all they do for the fellow bulldog? Not only do they love and spoil their own, but they also give to their bulldog loving community, by making you smile, laugh, cry, help others, always offer a friendly hello, and keep you coming back for more English Bulldog News. Perhaps they put in some extra efforts outside of EBN, volunteering, fostering, leading a bulldog group, and always trying to help bulldogs and their owners. We think they deserve a Slobbery Kiss from all of our bulldogs, don't you? I know how much ALL of us mean to each other. This is no easy task.
Who would that person be?
How to nominate/rules:
You may nominate up to four people for the EBN Hero award, 2 male and 2 female.
You will send your nominations and why you nominate them to bullmama.
The reason you nominate them must be added, and each nomination must tell why in 100 words or less!
The more nominations someone receives, the better their chances are of winning this award.
The winner of this award will be chosen by non-bias people in the pet industry who have no idea who you all are. All nominations will be reviewed by them and chosen by your nomination reasons. Therefore, it is important you give a good detail about why you wish them to be the EBN Bulldog Hero, because the judges will not know who they are.
Rules:
Your nominations will be accepted until the 25th of July, and the winner of these awards will be announced sometime after August 1st, 2014.
The winner of this prestigious award will receive a virtual award for their user profile,, and a beautiful engraved award plaque made by our very own @mavsfan4life, that we will have custom designed for the winners, for their home.
We really want you all to know that if we could, we would give everyone an award! All of the bulldog community, anyone who has ever helped another bulldog owner or a bulldog get rescued, whether it was once or everyday, you
ALL
deserve an award!
If you do not wish to participate in this event as a nominated member, please send me a message.