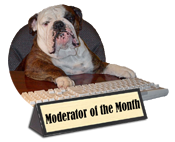 Congratulations to @sheshistory, our Moderator of the Month for August 2013!
August 2013. This is a month that Jill will not easily overcome in her memories. I can barely even begin to write this without crying, or even begin to describe the emotions that came with such a time in one person's life. With so much pain to overcome at the loss of her sweet bully Linus on July 31st, Jill reminded us all that it is okay to grieve, in ways that only true animal lover could understand.
With her grief she wanted to do something good in Linus's honor, and raised funds for the Humane Society with the Bulldog Memorial Skate. As she described it, "Turning Lemons into Lemonade". I know I speak for all of us when I say that is just an amazing thing to do at such a hard time in your life.
I would love to give everyone an outsider's point of view on her life, but for privacy's sake I will close this in saying Jill and her husband David welcomed her first child Gabriel on August 28th. As any of us can imagine, it must be an extremely emotional time.
Thank you Jill for your 3 years of service to EBN, you have always been around for rock solid advice and are a true blessing to have in our community. Baby T, Linus and Bentley have taught us all so much and your experiences with them continue to help others, long after. I hope as time passes August 2013 can bring you smiles instead of sorrow, and thank you for turning your sorrow into great things for the rest of us and especially the bullies.