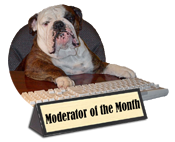 Once there was a fella,
we didn't know him much.
He was always in the arcade,
playing games and such.
Suddenly he started posting,
So friendly and fun, goes without saying,
Where did this guy come from?
The one who was always busy playing!?
Glad he came out of hiding,
And soon became an Elf.
Showing his love for EBN,
And never full of himself.
Soon after he became a Mod,
Always helping and making sure...
That those who come to EBN,
Got what they came looking for.
Congratulations to the Baconator,
Moderator of the Month for July!
Become his friend and you will see,
there is so many reasons why!
Thank you to Pete for all the help you have given organizing, setting up events, testing and giving me IT advice. You are an outstanding member of our team and we are very lucky to have you. Always willing to lend a helping hand to those in need, you are a great member of the forum and help make it the great place it is. Oh, and it surely doesn't hurt when you share sweet Bacon with us!