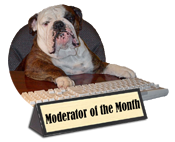 Congratulations to @
Sherry
, our Moderator of the Month for June 2013.
Whenever I think of Sherry, I think of a ray of light peaking through the clouds on a dreary day. She always brings sunshine to our forum with her kind words, helpful advice, and all of the sweet sillyness that we look forward to reading. She devotes herself to all the bulldogs in the world, as well as her own. She has been a rock for many members to lean on and is always following up to make sure those who were seeking help got through their problem okay. Without members like Sherry, EBN would not be what it is today. This is what it is all about. Contests are fun, Fundraisers are great, but it's those everyday sharing, caring, giggles and advice that is the staple of why we are all here. Her memory is sharp as a tack too, she will ask me something or remind me of something from awhile back I long had forgotten.
Since Sherry has the "Twenty Paws" to care for, she certainly has much experience to share with us. She has certainly "Been there and done that!" I know I have personally seeked her expert advice and thank you Sherry for being their for me.
We love hearing the stories of Grizz, Scrimps, Peggy Sue, Jack and Dolly, as well as seeing their photos--- which are pure bulldog eye candy! Thank you Sherry for all you do here on English Bulldog News and
to you, it is an honor to have you.