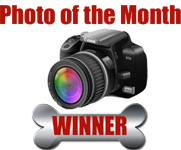 This contest is for all the Photo Contest "Losers" out there!
You get a second chance to win big!
Rules:
You can only enter a photo into this contest if you have NEVER won a Photo Contest on English Bulldog News.
Only one photo per user please! If you submit more than one photo we will choose one from your entries.
All members who have previously participated in a POTM contest are welcome to enter our contest (unless you were one of those winners! )
After July 10th, 2013 we will no longer accept entries.
All photos will be posted within the 4 Paw Members board, and the 4 Paw Members will vote for their favorite photos until the last day of that month.
Winner will be announced on July 15, 2013.
Once you enter your photo in this contest you are giving English Bulldog News and Fromm Family Foods permission to publish it on their website and newsletter correspondence, and possible future items such as calendars and greeting cards.
Your photo must belong to you. Copyright laws forbid you from entering a photograph that was not taken (or taken with your camera to clarify) and the photo must belong by you.
You must be a registered member of English Bulldog News and submit your photo by replying to this topic.
We apolgize but the contest winner must reside in the USA or Canada
Winner of this contest will receive the following prizes:
a 26lb. bag of Fromm Pork & Peas!
Photo will be featured on our Home Page for one month
Photo will appear in our Photo Contest Archives
Photo will appear in our monthly newsletter
How to enter your photo in the contest:
CLICK HERE TO ENTER!
This contest is sponsored by Fromm Family Foods!