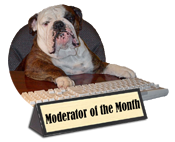 Congratulations to our Moderator of the Month for May 2013, @
MamaAndi
!
This past month was a pretty big month for our website. We needed volunteers to help cross post the English Bulldogs for Adoption, we were falling behind and this part of the site, and these cross posts are very important to us. I put a cry out for help in the 4 Paw Members board.
I was overwhelmed with the response from the community to help! We had several new Rescue Moderators join the team and they all met the task with joy and enthusiasm. Needless to say I was very pleased! So this month, not only do I want to share with you our Moderator of the Month, but I also want to give a greatful applause to ALL of our Rescue Moderator team for such a great job getting the word out about the hundreds of Bulldogs for Adoption that are out there.
@
agingermom
, @
Ftse 100
, @
ChrisRN
, @
Heff102
, @
Telly03
, @
Twice
, @
ChanelnBrutus
, @
savemejeebus
, @
kazzy220
, & @
Davidh
.
We also started two new forums these past 2 months. We wanted to be able to do what EBN does for others too. So we created two sites just for Special Needs Bulldogs and for French Bulldogs. specialneedsbulldogs.com and frenchbulldognews.com
Mamaandi took on the task of being a rescue moderator on the French Bulldog News site, and loves it so much she does almost all the postings on there for the French Bulldogs for Adoption. She also loved it so much she wanted to do more for us on English Bulldog News.
Now, what you may not know about Andi is that she has been doing this LONG before she joined the team. If she found a bully on petfinder or Craigslist, she posted it to us here. This is something she has been doing for as long as I can remember.
Last month was a particularly special one. Mamaandi posted about a senior bully in Nebraska. JeannieCO read her post and fell in love. Not long after, Jeannie was on her way from Colorado to Nebraska to pick up Mustang Sally and the rest is history.
Mustang Sally was at a shelter, not at one of the Bulldog Rescues. If Mamaandi had not found her and shared her with us here, she would not have Jeannie to love her and cherish her.
This month has been a very emotional month for all of us. Mamaandi has proved that
ONE PERSON
can truly make a difference! So for this reason, I am honored to award her with the Moderator of the Month award.