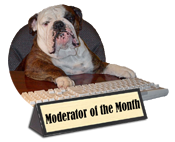 Congratulations to JAKEISGREAT, our Moderator of the Month for April 2013!
April has been a great month for all at EBN, we had a great fundraiser and our EBN Hero event. With many new members coming to EBN each day, JAKEISGREAT is always there with a warm welcome and helping new members along on how the forum works.
Last month JAKEISGREAT even welcomed a new grandson, baby Jack, and even with her new grammie duties she still kept up with taking the time to make new members feel at home. She continued to give great advice and comment on posts, as she always does, she just gives EBN a true feeling of family and community.
The day she joined our site was a very lucky day for us. The giggles, the stories of Jake, and always wanting to help anyone she can, she is without a doubt a jewel to us and to everyone who becomes a member here.
If you have been honored and welcomed by JAKEISGREAT on the forum, and wish to thank her for her continued kindness on EBN, shout from the rooftops with me, everyone! "Thank you for being our Site Ambassador, we appreciate all you do!"