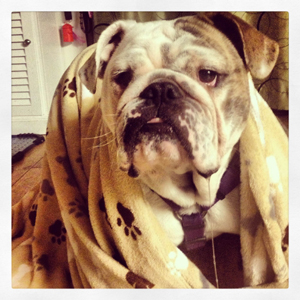 Kanellah's Story:
Kanellah is a super sweet 3-year-old bulldog that was surrendered when her owners could no longer afford her medical care. She came into rescue with a very distended tummy and what looked to be fluid around her chest and mammary area. After being treated by a specialist it has been determined that Kanellah was literally born with a broken heart. Both of her valves are deformed and she has thickening of the arterial wall on her left side. The fluid was built up all around her abdomen and organs. It has been draining with the help of diuretics and although much better, she still has a way to go. She is also on a couple of different heart meds and needs to be seen weekly by the heart specialist. We took her into our home to give her a loving place to be cared for until its time for her to visit her friends at Rainbow Bridge.
Kanellah is the sweetest little girl, with a lot of spunk. She loves to go for short walks, play with stuffed toys and she adores her foster daddy! She also likes to drool a lot (the diuretics make her thirsty)! Her dislikes include wearing her diaper, getting her wrinkles cleaned and any other dog that goes near her foster daddy!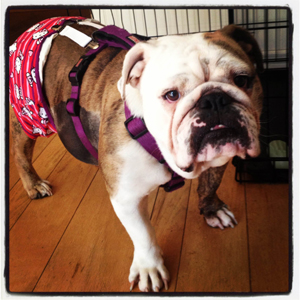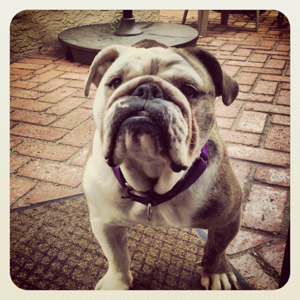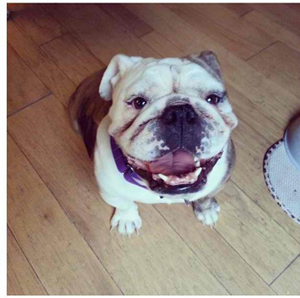 Please open your hearts to this wonderful girl and help us give Kanellah the good life!
CLICK HERE TO BECOME A HOSPICE SPONSOR FOR AS LITTLE AS $5 A MONTH!
Please note, that the Hospice sponsorship program is a monthly reoccurring payment. Please choose your donation that you can provide each month. The funds will be automatically withdrawn by Paypal each month. You will need to do nothing. Paypal will send you an E-mail each month letting you know the funds have been successfully transferred.
English Bulldog News has a sponsorship program of hospice English Bulldogs. These are the bulldogs that noone will adopt, due to their medical conditions or age, and have found their fur-ever homes in rescue, where they will be loved and cared for until they go to the rainbow bridge. Together as a community our goals is to pay for their food and prescriptions each month.
When you become a hospice sponsor, you will gain access to a special board in the forums for hospice sponsors, and you will receive the "Hospice Sponsorship" award to display in your award showcase within your user profile for each month you continue your subscription. You will also have a "Hospice Sponsor" badge that shows up in all of your posts. Your subscription donation will be automatically withdrawn out of your paypal account every 30 days until you cancel.