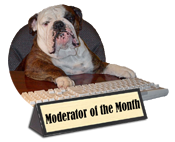 Congratulations to our Moderator of the Month for March 2013, Davidh!
David is not only a moderator here at English Bulldog News, but he has been accused of being a bit of a showoff.... He displays his English Bulldog News badges with honor, being one of our Lead Rescue Moderators, a member of our Press Team, and a Lead Moderator. Meaning he has the most badges to flash on his posts everyday!
As a Lead Rescue moderator he has been cross posting English Bulldogs for adoption for well over a year. Not only has that probably helped so many bullies out there get adopted, but also educates so many members who sign up on EBN about rescue bullies and their stories. I am sure there are a few bullies who used to live a horrid life now have a cozy couch to sleep on thanks to these efforts and especially the efforts of our rescue friends, their volunteers, and all of those who donate their hard earned money to help save a bully. Not only that, he has been known to save many bulldogs on his own and finding them great homes.
David is the editor of our
Member Spotlight articles
for the Press Team. If you have not visited this section yet, it is an awesome addition to the site. If you are interested in writing a member spotlight of your own, please send David a message.
As a Lead Moderator, David is always on the forum any chance he gets, and when he is not working as a firefighter he is involved in Showing and Conformation with his bulldogs as well as hobby and show breeding.
David has been accused of being a bully addict a time or two! His knowledge of the breed and the advice he gives to those who need help is invaluable. We are very lucky to have David here to help everyone along
Of course he keeps us plenty happy with pictures and stories about his beautiful bulldog crew too! They are the biggest couch potatoes we have ever seen!
Once again, Congratulations David and thank you for being a huge asset to English Bulldog News!