Welcome to our first quarterly auction! This quarter will are going to help three Bulldogs that are in need of medical care:
Gumbo at English Bulldog Rescue Network Houston
Blondie at Southern California Bulldog Rescue
Becca at Rescue Ohio English Bulldogs
To those who are new to the forum, the auctions will run from the 1st to the 7th day of April.
100% of the proceeds will be given to the respective Rescues that we are hosting them for.
Please visit the following forum URL to view the auctions that are available:
Auctions for Charity
Auctions will end at 9pm Eastern Standard Time on April 7th.
Important Information:
To bid on item, simply reply to the topic with a bid amount at least $1.00 higher than the last person's bid.
Remember, there could be more than one page of bids!
If you are the first bid, please start with the "Opening Bid" listed in the first post of each auction under the description.
You must have a PayPal account to bid. You can open a PayPal account at http://www.paypal.com
Payment is due within 5 days of the auction end. Please do not make us wait to get packages to the post office. Your prompt payment is appreciated.
If you are the winner, you will receive a private message with further instructions.
SHIPPING INFO!
If you have items you would like to donate to our monthly auctions, please contact @
BruceP
or @
LariP
CLICK HERE TO SEE AUCTION ITEMS!
Meet Gumbo at English Bulldog Rescue Network Houston
Gumbo is 5 years old. He has Glaucoma and is 100% blind in one eye. He has a corrected lens in the other and is 75% blind in that eye. The chances of the glaucoma moving to the other eye are very high! We are giving him special eye drops that the eye specialist has given us and have to wait 6 weeks to find out if the one eye has to be removed. Then we will go further to see if the corrected lens can be fixed and hope the glaucoma does not spread. Right now it is a waiting game but we know someone will live a special needs dog. Here is a picture of him. He is one of my fosters and so loving!" -- Mandy Newell Wisdom from English Bulldog Rescue Network Houston.
Meet Blondie at Southern California Bulldog Rescue
Blondie came into SoCal Bulldog Rescue in early March after her family left her at a local shelter. Her family told the shelter that Blondie is three and a half years old and just stopped walking for no reason. It did not take long for the rescue workers to realize that Blondie was one special girl. She is a beautiful girl with lots of energy and love to give. She has a drive to move forward and does not let her disability keep her down.
Blondie has been seen by both a neurologist and a rehabilitation center. Both agree that other than her inability to use her back legs, she is a healthy girl. They believe that the loss of mobility in her legs may be caused by L7-S1 spondylosis which is causing spinal cord compression. She also has many hemi-vertebrae in the middle of her spine that may also be causing spinal cord compression. To make matters worse, Blondie has bilateral medial luxating patellas. But, even with so much going on, Blondie does not let it keep her down. She loves to roll around and play with the other foster dogs and go for rides in her wagon during early evening hours. She knows when it is time for dinner and is not afraid to ask for her food. Blondie's is not incontinent, but until she can get a wheelchair to assist with getting around better, she wears a diaper in the house to ensure that she stays clean and dry when home alone.
Since SCBR cannot afford physical therapy for Blondie right now, her foster mom works on her exercises at home with her. SCBR and her foster mom hope to be able to raise the money to get Blondie a wheelchair and some additional physical therapy so that Blondie can get moving again. Blondie's foster mom knows that there is a home out there waiting for this special girl.
Upcoming Expenses
:
* Wheelchair and fitting - $650
* Diapers - $45.00 per month
* Diaper Covers - $45.00
* Supplements - $50.00 per month
* Lifting Harness - $120.00
* Entropic Surgery - $400.00
Meet Becca with Rescue Ohio English Bulldogs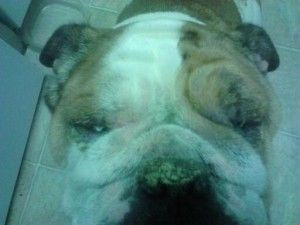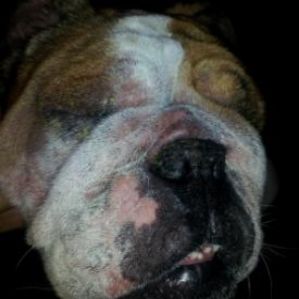 Becca came to Rescue Ohio English Bulldogs in early January 2013. Becca had been found wandering around in a park close to Columbus, Ohio and the couple who found her tried to find her owners. When it was obvious that nobody was searching for her they called ROEB. It was very obvious that Becca was suffering from an overwhelming number of medical issues.
The vet visit confirmed that Becca had skin infections, ear infections and eye infections as well as entropian. She was immediately treated with prednisone, antibiotics, ear rinse and drops, antibiotic ointment for her eyes, and antiseptic spray. As you can see from the pictures her face was very swollen. There were times when we truly believed that she would not make it.
Now three months later, after extensive medical care, Becca is finally healthy enough to be spayed and have entropian surgery. Then she will be ready to go to her fur-ever home!

Have fun and happy bidding!
Special thanks from
English Bulldog Rescue Network Houston
Southern California Bulldog Rescue
Rescue Ohio English Bulldogs