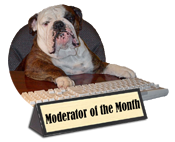 Congratulations to kazzy220, our moderator of the month for February 2013!
What more could a girl ask for? February is a month of nothing but love and celebrations for our beloved kazzy220, who has her birthday and anniversary in the month of February. She also became a foster failure and adopted Bella, which we already knew was going to happen..... So what a perfect time to celebrate her on EBN!
I know kazzy220 (Karen) is always telling us how thankful she is to have found EBN. Well we too are thankful because the day she searched the internet looking for help, the bulldog community found an angel.
Karen became a moderator to our site not very long after she joined, and last year was promoted to a Lead Moderator for her hard work and dedication to the site.
Now I really need to tell you that when she became a part of EBN, she also proved herself to be a huge asset to the rescue community. She is currently a volunteer for Rescue Ohio English Bulldogs who we are so very happy to share her with. She is also an inspiration to so many with her wonderful advice on bulldogs, but also on diet and exercise! I don't know how she manages to juggle all of it and be so good at all of it at the same time. It's truly amazing!
Reading what Karen has to say is always a pleasure. Her advice is awesome. We have learned so much from her experiences. We have laughed at Linus and Daddy's antics, cried with her when she lost her beautiful Maggie, and celebrated with her as she adopted Bella Bear. I smile, I cry, and I rejoice when I think of her and her beloved bullies.
Last month she brought it to our attention how much the home cooking was growing in popularity and so thanks to Karen, we now how a forum on the site dedicated to present and future home cookers. I can always count on her to give us input on ideas, no matter how busy she gets she always makes EBN one of her priorities and for that, we thank her. She is truly a blessing to EBN. Thank you Karen!