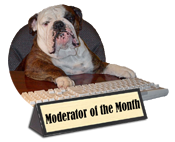 Congratulations to Libra926, our January 2013 moderator of the month!
Many of you know Libra926 for her wonderful photos and videos of her two bulldogs, Vegas and Orion. When she joined the site in 2010 she brought a new spark to the site with a touch of sassy. She soon joined our moderation team, then shortly after became a lead moderator. She helped come up with tons of great ideas for the site in it's early days that have now become a part of EBN.
Between Orion's escapades and Vegas's epilepsy, she has quite a job as a full time bulldog mom. I would like us all to stop and say well wishes for Vegas, who has been going through some very tough times this past month. Love you buddy, I hope you improve with the new treatment.

Cheryl (Libra926) has always been there for me to help me get my deadlines done. Setting up and editing auctions, issuing awards, and anything else I ask her to do. In January, not only was she caring for Vegas, but she was also assisting me with setting up the 2013 Anniversary Awards and the winner's article. She also completely went through the Photo and Video forum to ensure there was a thumbnail on every post. She is also mailing out any gifts from Southern California Bulldog Rescue to Hilly Hospice sponsors. I don't know how she managed to help do all of this working a full time overtime job over 50 hours a week....(without computer access!). She is a true asset to EBN and it's members, and I am proud to award her with Moderator of the Month for January 2013!