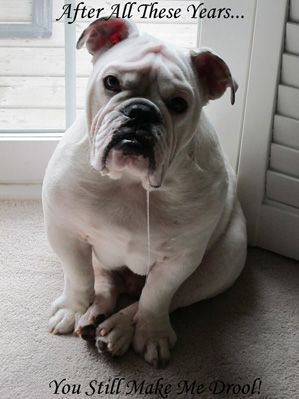 January 29th, 2010 English Bulldog News officially opened online. What was once an idea to make a fun place for English Bulldog owners to get together and share their information soon blossomed into something so much more. It became a staple of the site for us to help each other, not to critisize or be rude. This was something I found was an everyday occurrence at other forums. The brilliant part of it is that so many come here not just to post problems, so many come here to try to help others. With all the fun events, fundraisers, and site additions I must tell you I am beyond proud to be a part of something so wonderful. Any time I am having a bad day, I just need to go here and see how EBN makes a difference.
I would like to thank not only the members who log in each day to share their bully love, but also our
Staff Members
who dedicate so much of their time and energy helping me make EBN what it is. All of you make EBN a dream come true for us and so many others who are seaking help and support.
Looking Back at 2012
As I look back at 2012 I smile to think of all the folks out there that got the help they needed, and I mourn the loss of so many of our beloved bulldogs. There has been so many emotional ups and downs. As we continue to become closer to each other and our friendships grow we share something very special. It is hard to see your friends mourn tragic losses, but to help them through their pain and grief is moving. At the same time, it is wonderful to see members share their great news and wonderful stories. To those who are new to our forum, I do hope you stick around, because you have just met the most amazing group of bulldog lovers on the planet!!
This year our
Hospice Sponsorship Program
grew to four bulldogs, together we make it possible to support 4 bulldogs with food and prescriptions. This is such a wonderful program. Again, it started as an idea but grew with the support and love from our members.
Our Rescue Auctions/Fundraisers last year raised a total of $5,550+ for our Bulldog Rescues. What a great accomplishment, we hope to beat that this year! Our bulldog rescues need our help so hopefully you will all bid high!
Here is to another year of English Bulldog News! Cheers!