It is so wonderful to see the joy that was brought to our Hospice Bulldogs this holiday season. Hilly, Mr. Burger, Max and Otis are very thankful for the wonderful gifts they received from our English Bulldog News members.
For those of you that are new to the forum, English Bulldog News has a Hospice Sponsorship program. We all band together and donate a little bit each month to help our friends at Southern California Bulldog Rescue, Rescue Ohio English Bulldogs, and Indiana Bulldog Rescue. We also made a special exception to help EBN's own little Abby Sweetiehead.
Our English Bulldog rescue friends don't pick and choose which bulldogs come to them. Many times, older bulldogs or ones who have tremendous medical needs live their lives with their foster families. Not that they are never chosen, but it is very hard to find the perfect homes for these older sweet souls. The costs of food and medications for the Hospice Bulldogs can add up fast over a year.
EBN created the Hospice Sponsorship, after learning about the tragic past of a beautiful sweet girl named Pearl. She had extreme medical needs and SCBR found her a perfect foster family to care for her until the time came for her to go to rainbow bridge. We wanted to help, so we thought, "What if we all band together to support Pearl, and cover her cost of food and medicine each month?"
Thus, the Hospice Sponsorship Program was born. We now currently have 4 bulldogs that the members of English Bulldog News band together and sponsor. If you would like to learn more about this wonderful program,
Click Here
.
Sweetiehead crossed over to the rainbow bridge on November 23rd. With our hearts full of sorrow we knew it would be so hard but we really wanted Beverly to still have the gifts, so Abby sent them to her brother Otis to always remember her. It was with a heavy heart we got to see him with his gifts.
Special thanks to 2bullymama for putting together the bulldog stockings, and to Beth at Kuranda dog beds for discounting and shipping the dog beds to our special friends!
Here are the photos, enjoy!!
~Mr. Burger Enjoys his new prezzies~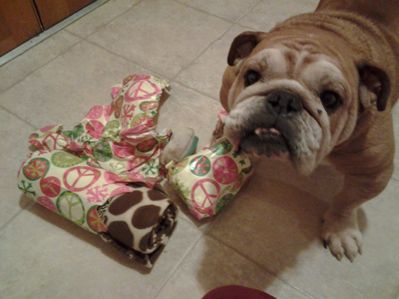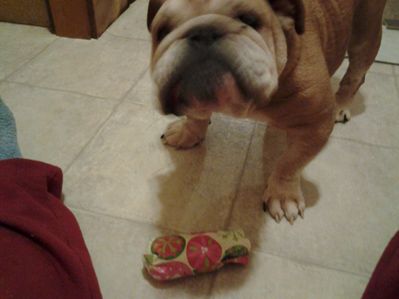 ~Hilly Loves Toys!~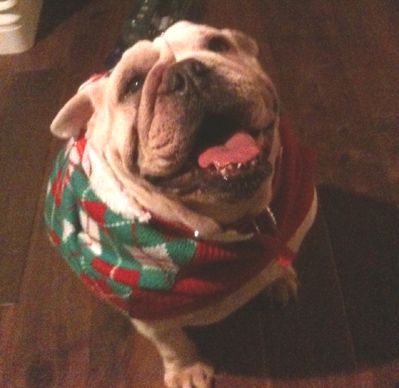 ~Hilly With Her Stocking~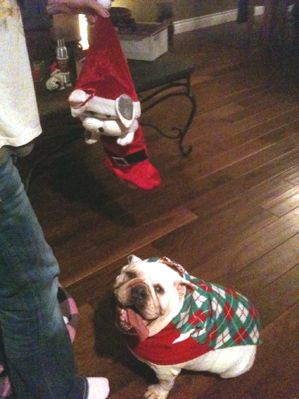 ~12 Year Old Max Slept Through It!~
~Here is Otis on his new Kuranda Bed~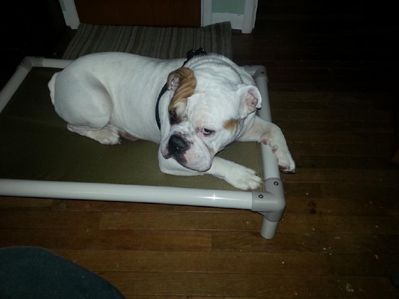 ~A Picture of the Bully Stocking of Goodies~