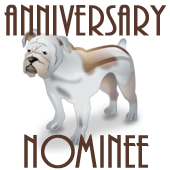 ~~~~~~~~~~~~~~~~~~~~~~~~~~~~~~~~~~~~~~~~~~~~~~~~~~
Hello there! Guess what time of year it is?
It is almost time for English Bulldog News to have its 3rd year anniversary!
To celebrate this occasion, we do something a little looney but somehow so much fun.
We have the Anniversary Awards!
This is a 4 Paw members only invitational, and here is how it works:
You will now notice a drop down menu on the bottom of each post on the forums on the left side that says "Nominate".
A list of possible nominations will come up. You can only vote for ONE member/bully per category listed. Upon moving to another page or refreshing your page, that option will disappear from your list.
Please try to nominate all catagories!
There is a thread in the 4 Paw Members board for everyone to post photos and more about their bulldogs, if you have not done it yet please do so on this link:
http://www.englishbulldognews.com/fo...ad.php?t=21950
You are not limited to placing your nominations in that thread, just thought it would be easier to find possible nominees this way!
Also, we will honor nominations for members who are not active 4 Pawers for Bulldogs as well!
Great places to find nominees for the Bulldog themed awards will surely be the photo and video section :camera:
DEADLINE IS JANUARY 15th 2013!!!! Voting polls will go up in the 4 Paw Members board shortly after!
Here is a quick elaboration of nominations:
User Awards:
Most Original Username- Which user has the most unique user name?
Funniest Username- Which user has the funniest username?
Most Talkative User- Who is the most chatty?
Best Castaway Choice- Which user would you want to be stuck on a deserted island with?
Most Interesting User Profile- Who has the most interesting user profile?
Biggest Sweetheart- Who is so sweet and nice that they came straight out of the candy dish?
Most Helpful Poster- Whether they can help or not, they always seem to be there to help another user in need.
Most Knowledgeable Poster- Who seems to have all the answers to everything?
Highest Quality Poster- Who posts with quality? Gives detailed answers or wonderful stories?
Funniest Poster- Alright, who tickles your funnybone?
Most Bulldog Obsessed- Well that would be everyone. But who is more obsessed than you?
Most Likely to Post Than Eat Sleep or Work- Who is always here posting?
Funniest User Signature- Who has the best signature on their posts?
Funniest Avatar- Who has the funniest avatar on their posts?
Most Unique User Signature- Who has the most Unique signature on their posts?
Most Unique Avatar- Who has the most Unique avatar on their posts?
Most Memorable Thread- What is the thread you love to see bumped because you could read it over and over?
Best Bullytographer- Who takes the best bully photos?
Best Bully Videographer- Who makes the best bully videos?
Moderator Most Likely to Ban You- Which moderator do you think would be the first to ban you if you broke the rules?
Bulldog Awards:
Most Spoiled Bulldog
Spunkiest Bulldog
Laziest Bulldog
Most Photogenic Bulldog (male)
Most Photogenic Bulldog (female)
Bulldog Most Likely to Become Famous (male)
Bulldog most Likely to Become Famous (female)
Most Unique Markings (male)
Most Unique Markings (female)
Most Kissable Lips
Cutest Bully Booty
Best Tongue Tippies
Most Talented Bully Tricks
Best Dressed Bully (male)
Best Dressed Bully (female)
Bulldog Class Clown
Best/Smartest in Obidience
Funniest or Most Original Bulldog Name (male)
Funniest or Most Original Bulldog Name (female)
Most Beautiful Adult Girl
Most Handsome Adult Boy
Most Memorable Bully Antics
Cutest Puppy
Longest Tongue
Cutest Ears
Prettiest Eyes
Wrinkliest Bully
Best Bully Smile
Best Bully Toofies
Biggest Bully PITA (Pain in the ***)

DISCLAIMER: If you are a 4 Paw member but do not wish to participate in the Anniversary Awards, please send a message to desertskybulldogs