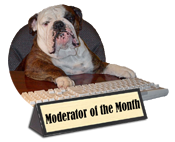 Congratulations to our Moderator of the Month for November, cowsmom!
If there is a 'famous' member on English Bulldog News, I think we could all agree that our wonderful cowsmom is one of those members. Many come to seek her advice about finding the right dog food, and she spends a lot of time looking for the right foods that can help an owner find a diet that meets their bulldog's needs.
Many of us here are great at pointing out how important a food change can make, but cowsmom will always go a step above and beyond for all of those seeking help. She is pretty darn special!
Okay so we all know she is wonderful at helping with food. Not only that but she also helps with making so many who just register feel right at home. She is always on our forum with a nice friendly welcome and helping on all types of bulldog issues. She helped me so much when English Bulldog News started to get too big for my britches and I was having a hard time trying to manage all of the aspects of the forum. She took over the dog food ratings and continues to add new foods to our ratings. Researching the labels, ingredients and the manufacturer of each food before putting them into our ratings takes much time and effort, all for others to be able to take the information given and use it to help their bulldogs live a wonderful and healthy life.
This is no easy task! Especially when dog food companies change their formulas and foods all the time. The dog food ratings have been such a help to thousands and is one of the most viewed pages on our website.
Let us not forget about Sarah, aka "cow". It was cowsmom's own battles with Sarah's allergies that brought her here and she continues to share her stories and battles so that others can learn from her trials. Thank you cowsmom for sharing Sarah cow with us and all the wonderful photos and videos of her!