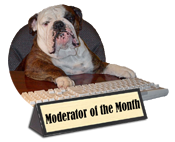 Congratulations to JeannieCO, our moderator of the month for October 2012!
For those of you who are new to our forum, our team of moderators do so much to help our forum run. Between our monthly contests, giveaways, special events, auctions and helping members- they really provide a huge service to our community. This is why we have decided to recongnize them each month so you can learn more about what they do here.
Many, many, months ago, English Bulldog News was starting to grow very quickly. I needed help! I was trying to juggle too many projects on the site all at once, with managing all of the articles you find on the home page.
I quickly began to realize that if we wanted to continue to create interesting articles and information, we needed a team of members that could contribute. The EBN Press Team was born.
I asked Jeannie if she could help write dog food testimonials. I was delighted at her eagerness to help! Finally I messaged her asking her to help me with other projects. She went above and beyond my expectations on each thing I asked her to do, and I must admit I was quite surprised.
Jeannie was promoted to moderator shortly after, and she has written many of our informational articles. She is always there to help any of the staff with any projects they are currently working on. She is also one of the team that donates, packs, ships and lists items up for bid in our rescue auctions. She is always reaching out to help other bulldog owners here on EBN and on facebook, and is
always
there for a friend in need. She is a true Gem. I think I can speak for everyone here at EBN when I say: Little did we know that it was a great day when we asked Jeannie to join our Press Team!
You can always count on Jeannie to share the antics of her 3 furkids. Wilson, Emma and Jack are celebrities here on EBN! Her wonderful demenor and fun quirky posts keep you laughing all day long. I will never look at tin foil or peppermint ice cream the same way! Not to mention
Jeannie is always there to help a member in need and everyone else on earth inbetween......Oh, I could tell you so much more about all the wonderful things Jeannie does for EBN and as a friend.....but I don't want to make her blush!