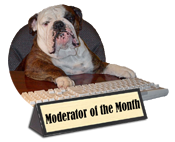 I would like you all to give a round of applause to our Moderator of the Month for September 2012, cali~jenn!
Cali~jenn signed up on EBN just two short months after it opened. Since then I think she has been here almost every day since, unless she was having a baby or on vacation! We had very few members and just getting started. Luckily for us, Jenn grew right along with us, being promoted to one of our very first moderators, then to our first lead moderators. She helped us build EBN into what it is today. She is someone EBN can always count on. Besides her responsibilities here, she is also a lead moderator at our sister forum Taste Tested Recipes.
Of course this task does not get any easier to choose just one moderator each month. Sometimes I think it would just be easier to pull names out of a hat! But.....
Jenn is always there with kind words, a warm welcome, a shoulder to cry on. She binds us all together, makes us better people and better friends. She had the most posts in the year 2011 and was awarded The Most Helpful Poster and Biggest Sweetheart Awards in 2011. She has been fiercely loyal to EBN since the very beginning, and she is not only our friend, but someone who is truly respected and admired.
In August and September you may have noticed a bit of fun going on in the 4 Paw Members board. Jennifer has taken it upon herself to have some fun doing polls and nominations for custom user titles, and it really has been a blast! Special thanks to @
Texkota
who was the first to ask us to do this, and no matter what we chose he would keep it there for one month. Many of us have been voluntary victims as well and we have had so many laughs along the way!
Thank you Jenn for being such an outstanding member of English Bulldog News, and congratulations!

You truly are a GRADE A ________!