Our August 2012 Auction for Illinois English Bulldog Rescue earned a total of $521.35 and we have been notified that these funds were used to help several bulldogs who found themselves in rescue.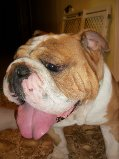 Here is Scooter
Right about the time that EBN contacted us, we were also contacted by a breeders son in law telling us that the breeder had passed away. He wanted to surrender all her remaining bulldogs to us. It was about a 6 hour drive from my hous,e so plans had to be put into place, making foster arrangements and transport help. We started off very early on a Saturday morning headed into Missouri for these babies.
One of our volunteers did not live too far away so she actually went and picked them up (originally there were only 7 but she sent me a text asking "did we have room for one more"). We met her about an hour away from the breeders residence. All of these poor babies were scared and not sure what was happening. I am not even sure they had even been in a car/vehicle before.
We met our volunteer at a designated spot for pick up. As was prearranged, she would be taking one and another foster close to her would be taking one. She picked out the two girls she would be taking, Dixie and Jazzy.
We then moved Rambo, Scooter, Fancy Face, Catie, Maggie and Oreo into our borrowed vehicle. There was some long nails, of course. We noticed right away that the two boys, Scooter and Rambo were having a hard time breathing. We had the air on high. Once we were moving, pretty much everyone settled down, with the exception of Oreo. She was not sure of this car ride thing at all. She panted most of the way home. We made one stop near St. Louis to hand off Scooter who was going to yet another foster in the KY area. We made the rest of the trip back to my house without my incident. Once we got back to my house and opened the back hatch on the vehicle, Rambo's tongue was starting to turn blue. The other volunteers took care of getting Catie, Maggie, Oreo, Fancy Face to their prospective foster homes.
Here is Rambo
Rambo had palette surgery that afternoon and has since then had another throat surgery. Dixie has a grade 5 heart murmur and is adopted to her foster family and will live out the rest of her life there. Jazzy was adopted by her foster family and is living the life of luxury. Scooter has had palette surgery, several teeth pulled, and his nose flares worked on, as well as his neuter, etc. Maggie has been adopted as well. Catie went into heat right after coming to us so she is behind the others and just got her spay last week. Fancy face is learning how to be a bulldog and enjoying her time in her foster home.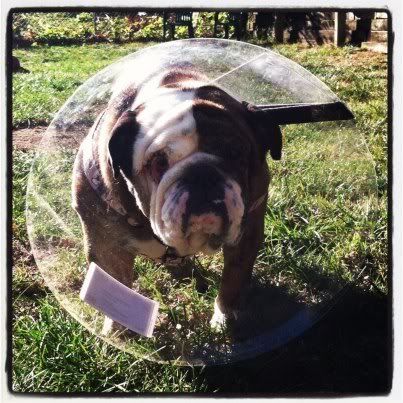 Here is Oreo
Oreo just had double entropian done on her eyes, the Vet said it was the worst case he had ever seen. Rambo will be neutered next week and may or may not be looking for his forever home.....I have fallen in love with the little man so we will see.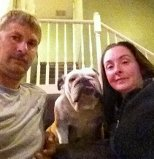 Dixie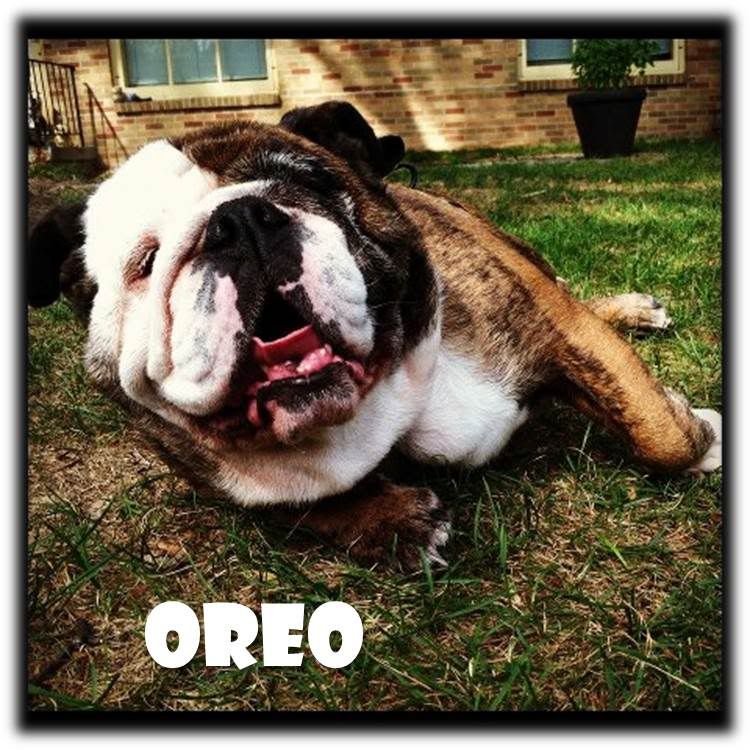 Oreo
The best part of rescue is watching a bulldog learn the fun things in life. Like sleeping in a bed, walking on the grass for the first time, learning to take a treat right out of your hand.

I want to thank EBN for their generous donation, as well as Champ Waring for his donation of a Champcassco. All rescues depend on donations to help the breed we all love so much.
I just wanted to thank you all once again for your support of our monthly auctions, and helping other bulldogs, each day I see what we can do, together we are unstoppable, what we cannot do alone we can do together, and I hug each and every one of you for your support, and I bow with the utmost gratitude to the rescues who take in these bulldogs who were abandoned. You are all angels!
THANK YOU!!!!