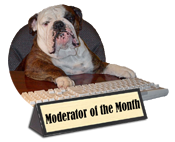 I would like to congratulate our August winner if Moderator of the Month, @
savemejeebus
!
When we decided to create the "Moderator of the Month" awards I don't think the admin team realized how hard it would be to choose one person each month, because everyone works so hard to keep our site a 'well oiled machine'.
Savemejeebus is one of our Lead Rescue Moderators on English Bulldog News. For those of you who do not know what the rescue moderators do here, I will tell you that they cross post English Bulldogs for Adoption from rescues all over the USA and Canada. She is also in charge of moderating the Raw Feeding forum and Lost Dog Alerts, as well as Rescue Efforts section, as well as giving input on new ideas in our staff area. She quietly does her "job" each month, and I would like to say she does her volunteer work so well at English Bulldog News that she kinda flies under the radar.... maybe most don't notice how much she does around here.... but if you pay attention, you can hear her loud and clear! Like a rock band in a nursery!
Jamelyn (savemejeebus) joined the Rescue Moderation team almost when the "Bulldogs for Adoption" part of English Bulldog News was created. When I created this forum, one of my goals, or shall I say- dreams, was to involve the bulldogs in rescue. What I did not realize was exactly HOW bad it was. It was not until I joined facebook and made friends with those in rescue did I see the what these beautiful bulldogs go through. I wanted so badly to make a section of English Bulldog News with Bulldogs for Adoption. However, with as much time as I already spent creating and working on the forum there was no way for myself to do it alone.
I met a wonderful lady on facebook named Carol. She wanted to help. So it began. I then posted on the forum for anyone who wanted to help, and within a few weeks we had a group of people cross posting bulldogs for adoption, one of which was Jamelyn. Our dream had become a reality, and it is easy to do it the first time, but to manage and keep up with the listings on a weekly basis is another.
I soon came to realize what a jewel EBN had found in Jamelyn. Always jumping in to help when other Rescue Moderators were unable to update. Eventually she became our Lead Rescue Moderator to help me supervise and find people who would want to volunteer their time.
Since we began, we have almost cross posted 2,000 English Bulldogs for Adoption on English Bulldog News. Recently, we have been able to find out keyword statistics and we found out that the #1 keyword set that brings people here is not English Bulldog, not English Bulldog Forum, but the #1 keywords are "English Bulldogs for Adoption". It is amazing to think a dream we had has become a reality, and that English Bulldog News is making a difference in the lives of these dogs. Without the help of Jamelyn and all of the other volunteers over the years who sacrificed their time each week to cross post, we could never have done it.
Last month Jamelyn posted over 30 bulldogs for adoption, as well as helped many new raw feeders get started on raw diet. She is a true asset to English Bulldog News, and EBN would not be the same without her here. What a lucky day it was for us when she googled looking for help for Stiggy's allergies, I bet she didn't imagine what an impact she would make on the future lives of some many members here and bulldogs in rescue, and little did we know what a special friend we were going to make!
Congratulations Jamelyn on being August's Moderator of the Month!