Our July 2012 Auction for SoCal Bulldog Rescue earned a total of $581.31 and we have been notified that the generous donation from EBN's recent auction for SCBR came at a very good time for the rescue as they had several bullies come into rescue needing extra care.
Most importantly helped Frankie who needed urgent care upon being surrenderd. Below is a picture of Frankie.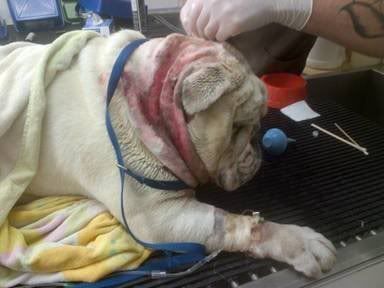 Frankie was an owner surrender. Frankies owner took him to ER vet last night due to heat stroke…His intake temp was 107.1. That is very high for a bulldog and could be life threatning. Frankie also had an open wound on his neck area…I asked the surrendering family what it was and he told me he got under a bush and it had prickly needles that they had to pull out. Upon examination, there were large maggots eating his flesh…yuck! So, Robert shaved and cleaned him. Not exactly sure how the ER vet office didn't notice since they did make an attempt to clean it up last night. Continued good thoughts for Frankie…he did eat and drink this afternoon but is still quite lethargic.
The Vet stabilized him during the night and released him this morning with a 101.3 temp. His owner couldn't afford much more than blood work and oxygen. So we decided it was his best interest to come with us into rescue.
Frankie's neck is healing well and making a great recovery
Frankie is deaf, loves kids and other dogs…also loves to ride in his wagon. He's a big boy at 60-65 lbs. He's lived his entire life outside and would continue to had we not stepped in to take this boy. This was a very sad surrender for us but we will make sure he gets the love he deserves. Now with the attention to his wounds and with proper care Frankie is feeling much better. From the staff and bullies at SoCal Rescue we thank you EBN for your support.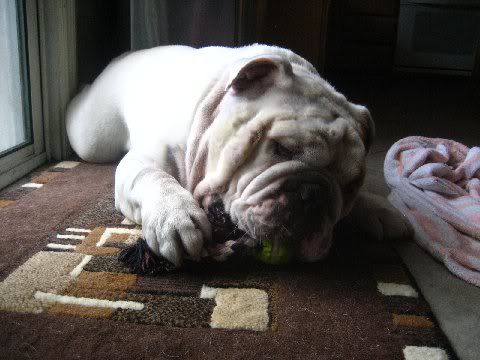 I just wanted to thank you all once again for your support of our monthly auctions, and helping other bulldogs, each day I see what we can do, together we are unstoppable, what we cannot do alone we can do together, and I hug each and every one of you for your support, and I bow with the utmost gratitude to the rescues who take in these bulldogs who were abandoned. You are all angels!