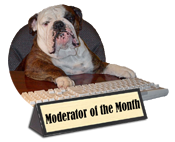 Many of you here at the forums do not really know how much hard work and dedication our moderation team put into English Bulldog News each and every month. Most people think of a forum "moderator" as someone who is keeping a watchful eye for rule breakers.
Our moderation team here at EBN is very different. The list of things they do for the members and the bulldogs, for the website, contests, auctions, rescues, daily polls, memorial gifts..... I cannot even begin to tell you how much extra things they do than just "moderate".
The administrators thought it was time to recognize our "Mod Squad" for all the wonderful things they do.
Each month the admins will select a moderator to receive the "Moderator of the Month" award for the exceptional time and effort they show in the previous month.
At the same time as each moderator earns their award, you can learn a bit more about what they do for EBN.
Our Moderator of the Month for June was a very tough choice, since so many of them have done so much in recent weeks. It was agreed, however, that the new position of the "EBN Ambassador" has been taken by @
JAKEISGREAT
and she has done an amazing job with helping and welcoming our new members, that she would be the first to receive this award. Not only were we thrilled she said yes to this new position at our forums, but she has really taken it to be everything we wanted the role to be and then some.
Not only has she been the welcoming committee but she was also on the calendar committee, responds to almost every post on the forum and if she cannot help she finds someone who will, helped advise and address staff ideas and well.... she is just a wonderful deserving person and the day she joined our forums little did we know how lucky of a day it was for English Bulldog News!