English Bulldog News would love to welcome our newest member of our Hospice Program, Mr. Burger!
For those who are new to the forum and are wondering what our Hospice Program is, here is what it is all about.
It all began with a bulldog beauty named Pearl, aka Hula Girl.
One day while browsing facebook I saw a story about a bulldog girl named Pearl. She was older and had many health issues, and she was rescued by Southern California Bulldog Rescue. I spoke with them about her and found out that she would likely never find a forever home because of her age and condition. They told me they have several in rescue all the time that will never get adopted.
I thought what a huge financial burden this must be on the rescues. They need donations and support to help save bulldogs everyday, and the costs of medications and special diets on bulldogs they will be keeping for years must be so hard for them. However, they do not turn their backs on them, they bring them into rescue and give them a good foster home and financially support them until they move on to the rainbow bridge.
I came to EBN asking if others would like to help me sponsor Pearl, that if we each gave $5 a month we could cover the cost of her food and medications.
The response from our (at the time very small) community was huge! We started the subscription program and now not only do we sponsor one bulldog, but we are currently up to three.
The hard part we have is that they do leave us and go to the rainbow bridge. We have loved and lost several already, but each time we say goodbye to a beautiful soul we get to help another.
Recently we lost our beloved Olive. She was up and down the past few months and it was hard for her foster parents. Olive sponsors will be transferred to Mr. Burger so they can continue to support the Hospice Program.
To become a Hospice Sponsor, follow this link to our available subscriptions. You must have a paypal account to become a Hospice Sponsor. You will also get the Hospice Sponsor Award for your profile, with the image of the girl who started it all, Pearl.
http://www.englishbulldognews.com/forums/payments.php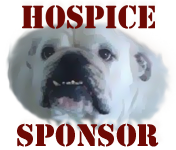 If you are a rescue organization and have a hospice you would like EBN to sponsor, contact
webmaster@englishbulldognews.com