We are very proud of the members of English Bulldog News everyday, and when we as a group are able to help each other and help the rescues, it makes us realize that we are more than just a community, we are a community that is going to help change lives of bulldogs and owners in need.
Our April 2012 Auction raised a total of $455, and the hearts of our community poured out to donate extra at the loss of our dear friend, Gunny. The Gunny memorial fund raised an additonal $415. After fees and shipping EBN was able to send 3 donations for a total of $808.74!
Now we even have more news to share with you. Now you get to hear about what your donations did for two special bulldogs named Meaty & Monty.
Below is a message from ROEB volunteer Karen (aka kazzy220):
Rescue Ohio English Bulldogs is a new and small rescue group operating out of the Cleveland area .... in fact, we only started in February 2011 so just celebrated our first birthday!! So far we have helped 20 bulldogs - adopting out 12 and currently with 8 in foster care. Four of these bulldogs are available today for adoption, but four of them continue to be held on medical hold.
In April ROEB was lucky enough to have EBN hold an auction naming them as the recipient of the money that was raised. Throughout that week of the auction a terrible tragedy struck one of the EBN members, and Gunnyboy sadly lost his beloved bully and companion to bloat. A chip-in for donations in the name of Gunny was immediately set up and without hesitation the members of EBN came forward and showed their support for a fellow member. We are honored that the money raised in Gunny's name was also donated to ROEB along with the money raised from the auctions.
We would like you to know where this money goes .. it is all too easy to take part in an auction and then forget or not realize what a huge impact your act of kindness and generosity can have on a rescue bulldogs life.
I would like to introduce you to two of our distinguished gentlemen ... Mr. Meaty and Mr. Monty. Both of these sweet bullys came into our rescue as owner surrenders. Most of your donation will go to the care of Mr. Meaty. Here is his story.
Meaty was an owner surrender. His owner could not cope with the medical needs of Meaty, and especially his tail which was the tightest any of us have ever seen. His tail was so infected that he required a steroid shot immediately to try and stop the swelling. After a few weeks of dedicated and loving care from his foster he has already made great progress. However, this was only part of the problem and Meaty has had to have entropian surgery on both eyes, palette surgery and also to be neutered. Today Meaty is a very happy bully, but we are still considering our options about his tail ... it may be that we will reluctantly be forced to have it removed as it remains to be a huge problem that would require a new owner to constantly be taking care of, and even then with no guarantee that the infection could return.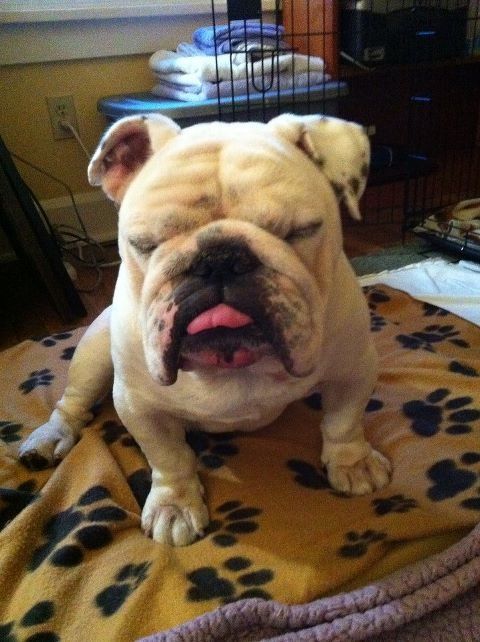 Meet Meaty
Meaty's Tail (before)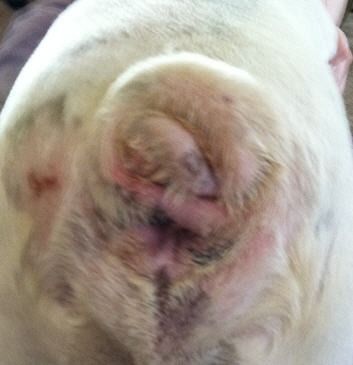 Meaty's Tail (after)
Here is the other recipient of your wonderful generosity ... this is Monty. Monty was another owner surrender who was described to us as "aggressive". However, we do not give up on a bully that easily so we set off to go and visit Monty and took an animal behaviorist with us. After that visit we decided that Monty was a bully who we could help find a loving home. When Monty was picked up he was suffering from a bladder infection that was so intense he would drip bright red blood in between urinating. He was prescribed very heavy antibiotics, and as the infection went away so did Grouchy Monty and we got to know Happy Monty!! However, Monty does have a fear of men (we don't know why but it is quite sad to witness) and is currently being fostered by a wonderful volunteer who is also a dog trainer and behaviorist. Monty is learning that men are no longer to be feared, and he is learning to accept the love and attention that every bully deserves to receive. Once he is neutered we think he will be ready to go to his new furever home.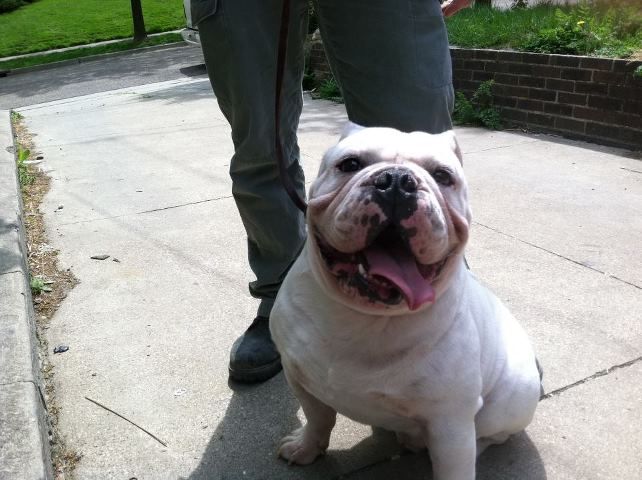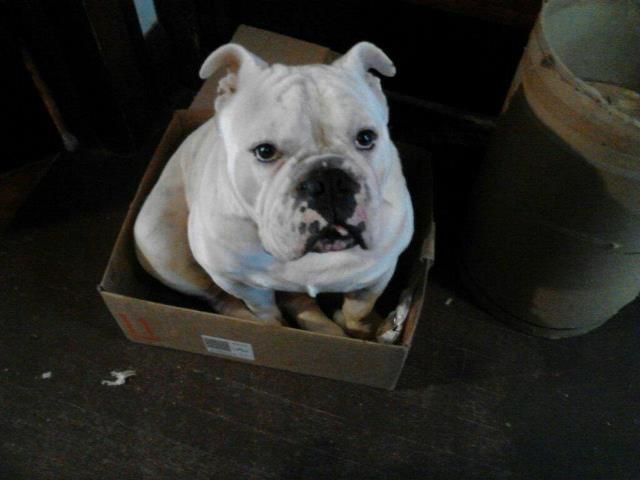 So the next time you see an auction on EBN we would like you to realize that every bid you make gives a bully a new life. One that is no longer full of pain and fear, neglect and torment, but the same kind of life that you give your own bully ... from the moment you wake up to that sweet squishy face to the moment you fall asleep together.
Once again, Rescue Ohio English Bulldogs would like to thank you for caring.