English Bulldog News Needs YOU to help them with their Special Bully Wish Lists!!!

Please Help US!!!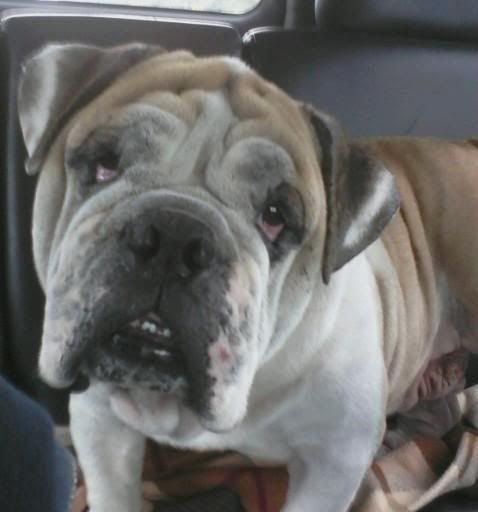 Are you looking to help other bulldogs in need? Every little bit of help from
YOU
goes a long way! Why not pick up an item when you go shopping and then simply mail it off to one or all of our Wish List Bullies below!
Our group is always looking for ways we can help. Each month English Bulldog News is going to publish the "Wish List."

English Bulldog News prides itself in helping those Foster Parents that rescue Bully's out of the shelters, sometimes out of bad situations and find them suitable forever homes. It's through the generosity of our members and the community that they are able to do this. Your help is greatly appreciated by our Rescue volunteers and English Bulldog News. If you would like to donate any amount or send items to the rescues below.

Get involved and make your community a better place for all bullies!


With Love and Support like yours, Sugarboo is now happy.
BEFORE - Sugarboo neglected



AFTER lots of TLC and support - Sugarboo is to the left

Sugarboo to the right

These Foster parents need your support! If you can donate any item, they will be very greatful!
____________________________________
Rescue Ohio English Bulldogs
c/o Rachael Rutowski
P.O. Box 30771
Cleveland, OH 44130
List of items for Rescue:
1. Diapers
2. Towels
3. Costco Beds ... cost about $20 (They've been receiving 42" circular beds recently)
4. Metal food/water bowls
5. Nylabones
6. Pumpkin
7. Waterproof bed covers
Rescue Ohio English Bulldogs is getting all the seniors at the moment! They need your help.
____________________________________
Indiana Bulldog Rescue

c/o Nikki Schoolcraft
8326 S. Firefly Drive
Pendleton, IN 46064
List of items for Rescue


New or gently used small blankets or throws

Crates (medium-Extra-large…clean and in good condition)


Large & Extra Large harnesses

Leashes

Dog beds (new or gently used in clean and in good condition)

Bulldog safe toys & Chews (no stuffed toys or rawhide chews)

Shampoo (preferably a natural anti-itch or medicated shampoo. Many bullies come to us with skin issues and cannot use harsh shampoos.

Dog food (preferably grain free)

Treats (preferably grain free)

Monetary donations are always welcome. Please make checks payable to Indiana Bulldog Rescue. We also have a PayPal link on our website http://indianabulldogrescue.com/donate/
All donations that cannot be used for our bulldogs are donated to local animal shelters. If you wish to donate any of the above items, please mail them to the following address: Indiana Bulldog Rescue c/o Nikki Schoolcraft 8326 S Firefly Drive Pendleton, IN 46064 You may also choose to order an IBR Wish List from Auggie's Closet. Select Indiana Bulldog Rescue in the Rescue Gift Registry – items are mailed directly to IBR.

____________________________________
Laurie Shy Martin ("Rescue Me")
330 Elliott Ave.
Chaffee, MO 63740

What is spina bifida? Normally, the spinal cord is surrounded and protected by the vertebrae of the spinal column. In spina bifida, there is defective fusion of the vertebral arches during embryonic development, so that the vertebrae are incomplete. The abnormalities range from only nonfusion of a small part of one or a few vertebrae, to most of the vertebral arch being absent on several adjacent vertebrae with protrusion of the spinal cord and/or its lining (meninges) through the defect. In the first case the dog will have no medical problems, but with more severe defects there will be clinical signs associated with the area of the spinal cord that is affected. Spina bifida may occur anywhere in the spinal column but is seen most often in the lower back region (caudal lumbar spine)Both genetic and environmental factors (toxins, nutritional deficiencies during pregnancy) can produce spina bifida.

How is spina bifida inherited? The condition is thought to be inherited, but the mode of inheritance has not been identified.

What breeds are affected by spina bifida? English bulldog, other breeds sporadically

What does spina bifida mean to your dog & you? Most often, spina bifida occurs in the lower back region (caudal lumbar spine). The clinical signs vary with the extent of the defect. With a mild defect, you will likely never know there is an abnormality unless your dog has x-rays that show the area. When the spinal cord itself is affected, you will see signs in the hind end ranging from weakness and incoordination to paralysis and urinary and fecal incontinence. With a severe defect (absence of several adjacent vertebral arches with protrusion of spinal cord), signs are generally evident very early, when pups start to walk.

How is spina bifida diagnosed? In severe cases in young pups, your veterinarian may recognize the condition on physical examination. Diagnosis is confirmed by x-ray.With a mild defect, your veterinarian may find this abnormality incidentally when an x-ray is performed.

This is Gracie, she will two in April..She loves clothes!!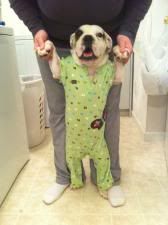 This is Caleb, he is already two.
List of Supplies Needed:
Walgreens Certainty Fitted Briefs – Medium
3t Undies for Boys
Size 5 Diapers
Aaquaphor
Poise Pads
Taste of the Wild Salmon Grain Free
Science Diet w/d for Caleb
Science Diet c/d for Gracie
Baby wipes
Panties from Wendi Roth on Facebook. I need sizes Large and Medium - Wendi knows the sizes except Mikey needs to go to a medium
Suspender outfits from http://www.doggieessentials.com. Linda has the measurements just tell her who it's for (Mikey – small, Gracie & Caleb medium).
Kim Turner also makes wonderful outfits too - https://www.facebook.com/kim.turner.5851
Cranberry Pills
Diaper Genie Refills
H harnesses - 2 large and one medium
Elastic Dress Cinch Clips
Coconut Oil
Desitin
Colon Supplement and Bladder supplement from http://www.tibetannaturalhealing.com...ersupport.html
____________________________________
Other ways you can help make a difference:

Sign up to sponsor one of our Hospice English Bulldogs. These bulldogs were saved by various rescue organizations, but they will most likely spend the rest of their days with their foster families and never be adopted due to their age or medical condition. What does your monthly subscription pay for? Your small monthly donation along with all the other members who sign up to sponsor provides each of these dogs with enough funding to cover their food and medications for the entire month! To sponsor one of these beautiful bullies, visit this link: http://www.englishbulldognews.com/forums/payments.php

Sometimes our beloved Hospice angels pass over to the rainbow bridge, but we will automatically assign you to a new dog who needs you. You will also be able to post and read in the Hospice Sponsorships forum, and receive an award for your profile for each bully you sponsor.